South Carolina: Counting under way in tight primary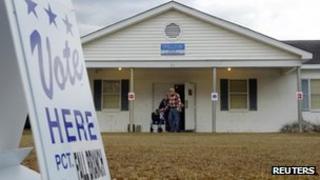 Counting is under way in South Carolina's primary, the latest leg of the battle for the Republican candidacy in the US presidential election.
Opinion polls suggest a tight race between frontrunner Mitt Romney and former House speaker Newt Gingrich.
Saturday's election is a crucial test for the four remaining contenders.
The stakes are particularly high in South Carolina as the winner there has gone on to win the nomination in every election since 1980.
BBC North America editor Mark Mardell, in South Carolina, says that while this is historical fact, it is in no way an iron law.
Conservatives opposed to a Mitt Romney candidacy see the primary as their best chance of puncturing the sense of inevitability surrounding Mr Romney's bid, though should Mr Gingrich win, the contest would be far from over, our correspondent says.
Mr Romney, a former governor of Massachusetts, has long been seen as the favourite for the nomination, but has failed to excite large numbers of Republican voters.
Mr Gingrich has captured the headlines and risen in the polls in recent days, batting off a potentially damaging interview from an ex-wife, in which she said he had wanted an "open marriage".
The other two major candidates left in the race are former Senator Rick Santorum and Congressman Ron Paul.
Mr Santorum is competing with Mr Gingrich for the conservative vote, while Mr Paul's libertarian message has won him a passionate support, especially among young voters.
'Near showdown'
The candidates made a last-ditch effort to win votes across the state on polling day, stopping to visit a host of polling stations before returning to their bases to watch the results come in.
At one point on Saturday, Mr Romney and Mr Gingrich were set to cross paths in Greenville, but Mr Romney appeared at Tommy's Ham House earlier than planned.
"I'm the only guy's who's spent his life in the real world," Mr Romney, standing on a chair in the crowded restaurant, declared.
He added: "We've got a long way to go. So come join us in Florida, in Nevada, Michigan, Colorado. We've got a long way to go."
When Mr Gingrich walked in - just minutes after Mr Romney left - he said: "Where's Mitt?"
"I need your help," Mr Gingrich said. "This is a very, very important day. We have an opportunity to nominate the genuine conservative who can debate, and who can take it to Barack Obama."
At the polls, voters seemed prepared to overlook Mr Gingrich's personal life.
"I remember what he did when he was speaker and in a group where there's not a lot to choose from that counts," said Frankie Jackson, voting with his 18-year-old daughter in Lexington County.
Others backed Mr Romney. "For me the main issue is the economy," voter Jim Pagett said in the state capital, Columbia.
"I feel there is no other candidate in the Republican field who has the business experience he has," he said, adding that he was had concerns Mr Gingrich did not have the temperament to be president.
Primaries and caucuses will be held in every US state over the next few months to pick a Republican nominee before the eventual winner is anointed at the party convention in August to take on Mr Obama in November.
Results are due to start coming in from about 7:30pm (00:30 GMT Sunday).