Profile: Megaupload file-sharing site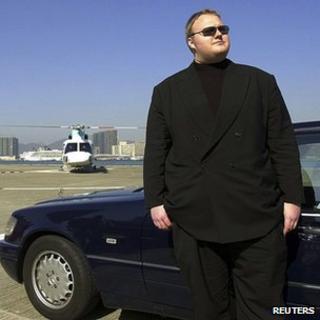 Boasting some 150 million registered users, Megaupload was one of the biggest file-sharing services in the world before it was shut down this week.
At one point it was estimated to be the 13th most frequently visited website.
It has now found itself the subject of one of the largest cases of copyright theft ever, after the US ruled that it violated piracy laws.
US authorities say the company's sites - which allowed users to upload videos, music and pornography for distribution - committed and facilitated intellectual property crime.
The business - whose closure has sparked an attack by hackers on US government sites - has defended itself, saying the accusations against it were "grotesquely overblown".
The site had about 50 million hits a day when it was in operation, putting it within the top 100 most visited websites, according to estimates.
'Electronic security devices'
It was based in Hong Kong, although the US indictment said it had jurisdiction as some of the content was hosted on servers in the US state of Virginia.
At the request of US authorities, four senior employees have been arrested in New Zealand, charged with breaching piracy laws.
Media attention has focused on Kim Dotcom, also known as Kim Schmitz, the 37-year-old flamboyant entrepreneur who founded the site.
In a dramatic raid on Mr Dotcom's property, his lavish lifestyle was revealed as police seized luxury cars worth NZ$6.0m ($4.8m) - including a 1959 pink Cadillac and a Rolls Royce Phantom, and a short-barrelled shotgun.
About NZ$11m in cash held in New Zealand financial accounts was also frozen, police said.
Mr Dotcom, who is a German citizen but who also holds New Zealand and Hong Kong residency, had attempted to evade capture by activating a number of elaborate electronic security devices in his house.
According to the indictment, he made more than $42m from the site in 2010 alone.
Celebrity support
Two other founders - Kim Tim Jim Vestor and Mathias Ortmann - were apprehended along with Mr Dotcom, as well as sales officer Finn Batato. Head of development Sven Echternach and two other defendants remain at large.
They are accused of costing copyright holders at least $500m in lost revenue through the site.
The company, however, has said it responded to complaints about pirated material and removed links when necessary.
The site also has numerous high-profile supporters. Before the site was shut, it showed messages of endorsement from celebrities including model Kim Kardashian and singers Alicia Keys and Kanye West.
The arrests came amid a debate over proposed anti-piracy laws by the US government, which led to thousands of websites - including Wikipedia - taking part in a "blackout" protest.
However, the Department of Justice suggested the two matters were not related.