Johnson & Johnson settles $158m US Medicaid fraud case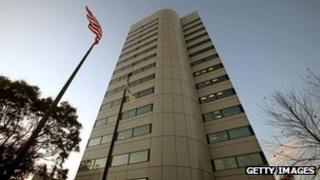 Johnson & Johnson has settled for $158m (£102m) over allegations that a subsidiary defrauded a state healthcare programme in the US state of Texas.
The company is accused of illegal marketing and kickbacks to boost Risperdal, an anti-psychotic drug.
Judges in other states have also ordered the subsidiary, Janssen, to pay millions for similar accusations, but those cases are still under appeal.
The company said it was "committed to ethical business practices".
The state of Texas had been seeking up to $1bn in the suit.
According to court records, the company was accused of targeting "every level" of the Texas Medicaid programme.
Medicaid is a government-backed US public heath programme for low-income citizens.
Texas' Risperdal case was filed by whistle-blower Allen Jones, who alleged the company made false or misleading statements about the drug's safety and effectiveness when compared to other drugs.
Mr Jones, a former employee of the Pennsylvania Inspector General's office, said he learned of Johnson & Johnson's actions in Texas while investigating similar claims in his home state.
The state of Texas joined the suit in 2006.
'Subverted science'
The subsidiary, Janssen Pharmaceutics Inc, said in a statement that the company was "committed to ethical business practices, and has policies in place to ensure its products are only promoted for their FDA-approved indications".
Allen Jones, who will receive part of the settlement, told reporters that while the payment was enough punishment, "this industry will not change its behaviour until executives are prosecuted, until executives actually go to jail for the frauds they perpetrate".
"They trashed the Johnson & Johnson credo and they misused Texas and, I believe, well-meaning officials, to further their marketing aims," Mr Jones said.
"They subverted science and they induced others to betray the people they were supposed to be taking care of. To me that is reprehensible."
Last year, a South Carolina judge ruled Johnson & Johnson must pay a $327m penalty after a jury found it guilty of similar charges. In 2010, a Louisiana jury found the company violated that state's Medicaid fraud act and awarded it $258m in damages.
The company is appealing against the Louisiana verdict and has said it will appeal the South Carolina verdict as well.
Arguments in the Texas trial had already begun on 10 January. At the start of the trial, lawyers for the New Jersey-based health care giant insisted the company did nothing improper in marketing the drug.