South Carolina: Romney-Gingrich battle intensifies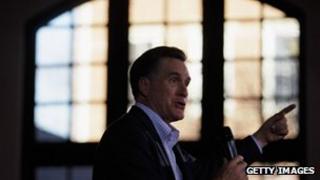 A war of words between US Republican rivals Newt Gingrich and Mitt Romney has escalated with just three days to go before South Carolina's primary.
Mr Gingrich said he expected Mr Romney's campaign to be "unendingly dirty and dishonest", drawing fire from the front-runner's campaign.
Meanwhile, ABC News reported that Mr Romney has invested millions of dollars in accounts in the Cayman Islands.
A spokeswoman confirmed the report, but said he was not getting any tax break.
Mr Gingrich faced potential trouble of his own, though: reports emerged that his former wife Marianne Gingrich has given an interview to ABC News which the network plans to broadcast before South Carolinians head to the polls.
The Gingrich campaign released a statement from his daughters, defending their father: "He has said before, privately and publicly, that he regrets any pain he may have caused in the past to people he loves," the said.
Polls narrowing
At a campaign stop in Warrenville, South Carolina, Mr Gingrich said: "I fully expect the Romney campaign to be unendingly dirty and dishonest.
"They thought they could buy this. They're discovering they can't buy this."
Within hours campaign staff for Mr Romney, a former Massachusetts governor, released a new internet ad and website characterising Mr Gingrich's time as Speaker of the House as "chaotic" and "erratic".
The volley of attacks increased as Mr Gingrich's support improved significantly in one national poll, trailing Mr Romney by only three percentage points. A second nationwide poll showed a larger 6% gap between the two candidates..
Meanwhile, four of the Republican candidates - excluding Mr Romney - spoke at a forum on Wednesday hosted by Personhood USA - a conservative organisation that supports initiatives to define life as beginning at the moment of conception.
Offshore funding
Mr Romney's financial disclosure forms show he invested in at least 12 funds worth $8m and one fund estimated to be worth between $5m and $25m - all domiciled in the Cayman Islands, according to ABC News.
Campaign officials denied that the accounts provided a tax advantage, but some tax experts say offshore accounts can have potential benefits, including greater foreign interest.
The focus on his wealth is an unwanted distraction for Mr Romney, correspondents say, as he looks for a strong showing in a state where the unemployment rate, at 9.9%, is among the highest in the nation.
At a event in Rock Hill, South Carolina, the candidate attempted to avoid questions about his taxes and pivoted to attack Mr Gingrich.
"My goodness, I listened to Speaker Gingrich the other night talk about the enterprises I've been associated with," Mr Romney said. "I'm proud of the fact that I worked in the private sector, that I've achieved success."
Alongside the new anti-Gingrich ad, two surrogates for the Romney campaign, former Senator Jim Talent and former Representative Susan Molinari, told reporters the House Speaker's tenure was disastrous for Republicans and for their policies.
Correspondents say a primary win in South Carolina for Mr Romney would significantly strengthen his chance of becoming the nominee.
Mr Romney is polling at 33% in one survey of the southern state, with Mr Gingrich at 23%.
Seeking tax returns
The reports of Mr Romney's Cayman accounts came a day after the candidate indicated he paid about 15% in tax.
The rate is a much lower than most Americans contribute. Mr Romney says he might release his returns in April.
Mr Gingrich estimated his own tax rate at 31%, and said he was gathering documents to release as soon as possible.
He told reporters he was not criticising Mr Romney for paying a rate below that of most Americans.
"My goal is not to raise Mitt Romney's taxes, but to let everyone pay Romney's rate,'' he said.
A top surrogate for Mr Romney, New Jersey Governor Chris Christie said that Mr Romney, whose net worth has been estimated at up to $270m (£175m), should release his returns sooner rather than later.
Gov Christie told MSNBC programme Morning Joe on Wednesday: "What I would say to Governor Romney is if you have tax returns to put out, you should put them out.
"You should put them out sooner rather than later because it's always better to have full disclosure, especially if you're the front-runner."