Chris Christie tells Mitt Romney to release tax returns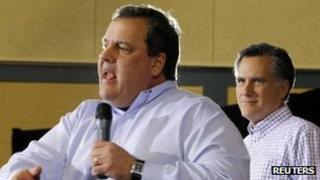 Republican candidate Mitt Romney should release his tax returns without delay, says one of his main backers, New Jersey Governor Chris Christie.
He told breakfast TV: "Let's get all of the facts out there", adding that he did not think they would reveal much.
On Tuesday Mr Romney indicated he pays about 15% in tax, a much lower rate than most Americans contribute. He says he might release his returns in April.
Rivals want Mr Romney to divulge the details before a key weekend primary.
He is leading the pack in the state-by-state race for the Republican Party's nomination to challenge Democratic President Barack Obama for the White House this November.
The former Massachusetts governor pivoted on Wednesday to attack rival Newt Gingrich as a national poll showed the former House Speaker trailing Mr Romney by only three percentage points.
Gingrich pounces
A Romney win in South Carolina's nominating vote on Saturday could all but sew up the Republican presidential nomination, correspondents say.
Gov Christie told MSNBC programme Morning Joe on Wednesday: "What I would say to Governor Romney is if you have tax returns to put out, you should put them out.
"You should put them out sooner rather than later because it's always better to have full disclosure, especially if you're the front-runner."
Gov Christie is a popular surrogate of the Romney campaign and has made appearances on the campaign trail in Iowa and New Hampshire.
Mr Romney, who built a fortune in private equity, said while campaigning in South Carolina on Tuesday that his income came mainly from past investments.
The other Republican candidates are attempting to portray Mr Romney - who has a personal fortune estimated at up to $270m (£175m) - as out of touch with the everyday hardship of average voters.
Rick Perry and Newt Gingrich have suggested that Mr Romney may have something to hide in not releasing his tax forms, which he has repeatedly declined to do.
The issue came under renewed scrutiny during a nationally televised debate on Monday night as Mr Perry, the Texas governor, challenged him to disclose the details.
Mr Gingrich said on Wednesday that he paid 31% of his income in taxes for 2010, and that his campaign was working on gathering documents to release.
He told reporters he was not criticising Mr Romney for paying a rate below that of most Americans.
"My goal is not to raise Mitt Romney's taxes, but to let everyone pay Romney's rate,'' he said.
Mr Gingrich, buoyed by another robust debating performance on Monday, has been backed by former Alaska Governor Sarah Palin, the party's vice-presidential nominee in 2008.
She told Fox News on Tuesday night that she would vote for Mr Gingrich in South Carolina's primary if she could.
Campaigning in South Carolina on Wednesday, Mr Romney mocked Mr Gingrich's claims of helping to create jobs during his time in Congress, saying "government doesn't create jobs, it's the private sector that creates jobs".
The Romney campaign also launched an internet advertisement and related website called "Unreliable Leader", aimed at Mr Gingrich.
The ad characterises Mr Gingrich's House Speaker tenure as "chaotic" and "erratic".