Lifelike Steve Jobs doll pulled from market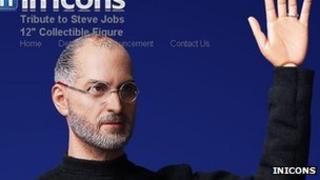 A Chinese firm scrapped plans to sell a lifelike doll of Steve Jobs after his family and Apple lawyers objected.
In Icons said in a statement they "have not overstepped any legal boundaries", but felt a "heartfelt sensitivity" to the feelings of the Jobs family.
The figurine was intended as a tribute to the Apple founder, and came with accessories such as a mock iPhone, turtleneck and New Balance sneakers.
In Icons has offered a refund to customers who had pre-ordered a doll.
The figurine, which was 12in (30.5cm) long and was to sell at $99.99 (£65), had realistic facial features that the company says had been reworked many times to achieve a lifelike appearance.
The toy-maker had recently begun marketing the figurine in January and planned to begin shipping in February.
"We understand that this decision will cause many of the fans disappointment, but please forgive us as there is no other alternative unless to have the blessing from the Steve Jobs family," an announcement on the company website said.
The company added that the decision had been made in the face of "immense pressure from the lawyers of Apple and Steve Jobs' family".
Other tributes have been made to honour Steve Jobs since his death. The Recording Academy posthumously awarded him a Grammy to mark his contribution to the music industry.
A bronze statue of Jobs has been erected in Budapest, Hungary after it was commissioned by software company Graphisoft.
The founder of Apple died on 5 October at the age of 56, after suffering from pancreatic cancer.