Republicans target Mitt Romney in South Carolina debate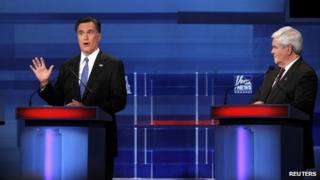 Republican presidential candidate Mitt Romney's business and political record has come under attack from rivals in the latest televised debate.
He was forced to defend his time as a private equity boss and governor of Massachusetts, as the freshly trimmed field of five candidates faced off.
It was one of the last chances for his rivals to check his momentum before South Carolina's primary on Saturday.
New polls show him with a double-digit lead in that state and nationally.
An ABC News/Washington Post poll released on Tuesday gave him 35% support, with Newt Gingrich (17%) and Ron Paul (16%) virtually tied for a distant second place.
South Carolina polls show Mr Gingrich - who struggled for the limelight in Iowa and New Hampshire - as Mr Romney's nearest challenger.
The contenders are vying to become the Republican Party's nominee to take on President Barack Obama in November's elections.
Tax returns challenge
Correspondents say Mr Romney could become unstoppable if he wins in South Carolina, after his victories this month in Iowa and New Hampshire's nominating contests.
In the past three decades, no Republican has won the party's presidential nomination without carrying South Carolina.
Earlier on Monday, former Utah Governor Jon Huntsman endorsed Mr Romney as he withdrew from the race saying it had degenerated into "toxic" personal attacks.
Mr Romney fought off attacks during the evening debate with rivals Rick Santorum, Newt Gingrich, Rick Perry and Ron Paul.
The former Massachusetts governor was forced to defend his work at a private equity firm, Bain Capital, amid a pincer movement by Mr Gingrich, a former House Speaker, and Rick Perry, the governor of Texas.
Mr Romney also clashed with Mr Gingrich over attacks ads run by pro-Romney super political action committee (PAC), which the former House Speaker said had aired "falsehoods".
The former Massachusetts governor shot back that an attack ad broadcast by a pro-Gingrich super PAC was "probably the biggest hoax since Bigfoot".
Mr Perry, who is trailing in the race, called on multimillionaire Mr Romney to release his income tax records, which he has repeatedly declined to do. The former Massachusetts governor did not respond to that challenge.
But he later suggested he might release his tax returns in April, after he was asked about the issue by one of the debate moderators, although he did not commit to do so.
"I have nothing in them [tax records] that suggests there's any problem and I'm happy to do so," he said.
He added: "If I become our nominee and what's happened in history is people have released them in about April of the coming year and that's probably what I'd do."
During a subsequent to and fro over voting rights for convicted felons, Mr Santorum asked Mr Romney to explain his stance.
Mr Romney said those who had committed violent crimes should not be allowed to cast a ballot again.
Mr Santorum pounced, saying that when Mr Romney was governor of Massachusetts, not only could violent felons vote, but they could do so when on parole or probation.
Mr Gingrich also accused Mr Romney of raising taxes during his time as governor of Massachusetts, which Mr Romney denied.
The debate hosted by Fox News in Myrtle Beach, South Carolina, was the first of two this week in the state, with the next on Thursday.
An opinion poll on Monday showed Mr Romney at 32% support among likely voters in the South Carolina primary.
Meanwhile, a national Gallup poll put Mr Romney 23 points ahead of both Mr Gingrich and Mr Santorum.
Mr Romney could only manage a fourth-place finish in South Carolina during his first run for the White House in 2008.
Correspondents say he was hampered by misgivings over his Mormon faith among the state's large bloc of evangelicals and other conservative Christians.