John Edwards trial delayed over heart condition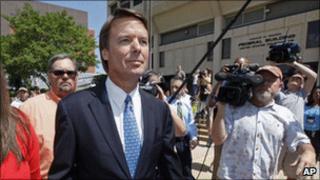 Former US presidential contender John Edwards has a heart condition and needs a delay to his trial on charges of misusing campaign funds, doctors say.
A judge in North Carolina delayed jury selection until 26 March while the former Democratic senator, 58, undergoes tests and treatment.
She said letters from cardiologists treating Mr Edwards showed he had a "serious" condition.
Mr Edwards denies using campaign funds to hide an extra-marital affair.
The former North Carolina senator is charged with using cash from two donors to shelter campaign aide Rielle Hunter, with whom he fathered a child.
He is accused of illegally used the campaign funds to pay her living expenses and hide her from the media.
'Life-threatening'
The former North Carolina senator ran for president in 2004 and 2008.
His trial has already been delayed twice, the Associated Press reports.
On Friday, federal judge Catherine Eagles said cardiologists for Mr Edwards told her he had suffered three "episodes" related to his condition.
He is to undergo a procedure in February that would require a period of recuperation.
She did not disclose details of the condition, but said she could be life-threatening if left untreated.
Mr Edwards, a wealthy former trial lawyer, was elected to the US Senate in 1998 and served a single term.
He ran for the Democratic presidential nomination in 2004, and after failing in that bid joined Senator John Kerry as vice-presidential candidate on the Democratic ticket.
It was during his second presidential bid in 2008 that his campaign hired Ms Hunter as a campaign videographer. He withdrew from that race in January of that year.
Mr Edwards is charged with one count of conspiracy to violate federal campaign finance laws and to make false statements to finance regulators, four counts of taking illegal campaign contributions, and one count of concealing illegal donations from regulators.
If convicted, he faces up to five years in prison and a $250,000 fine.