Alaska winter: Russian tanker reaches ice-bound Nome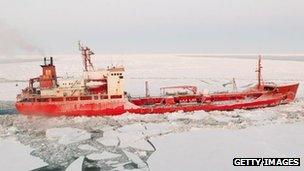 A Russian tanker delivering fuel to the Alaskan town of Nome, cut off by ice and extreme weather, has reached the western coastline of Alaska.
The vessel, carrying more than 1.3 million gallons (4.9 million litres) of fuel, was moving in the wake of a US Coast Guard icebreaker.
They are the first ships to reach western Alaska in the depths of winter.
Nome usually receives fuel by barge. But severe autumn snow storms prevented a pre-winter fuel delivery this season.
The ships are said to be about 6 miles (9.7km) offshore and crews are waiting for daylight - around 11:30 local time - to begin unloading the cargo, when the conditions are safer.
"They want to get a good staging area to start taking fuel off and that would be easier in the morning," Coast Guard official Adam de Rocher told the Associated Press news agency.
The 370ft (113m) Russian tanker is certified to travel through 4ft of ice over long distances. It was deemed to be less expensive and more practical than bringing the delivery into Nome by air.
Alaska has been battling huge volumes of snow, with the south-easten fishing town of Cordova receiving more than 172in (4.4m) of snowfall since November.
More snow fell there after midnight on Wednesday and the Alaska National Guard was called in to help clear the drifts.
But the city is running out of places to put the snow, and has employed front-end loaders to dump the snow in snow-melting machines.
Cordova spokesman Allen Marquette said: "That's our big issue, getting our snow dumps cleared for the next barrage of snow."