Obama 2012 campaign raises $68m in final 2011 quarter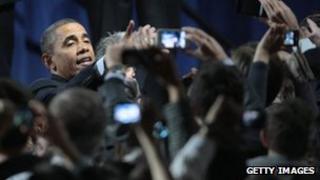 US President Barack Obama's re-election campaign and the Democratic National Committee raised some $68m (£44m) in the final three of 2011.
Obama 2012 campaign manager Jim Messina said 98% of the donations were small-scale, amounting to $250 or less.
The figure was released a day after leading Republican candidate Mitt Romney's campaign said it raised $24m in the same time period.
The Obama campaign has now raised over $200m in the past year.
In a video message to supporters, Mr Messina pushed back against projections that Mr Obama's campaign could collect $1bn during this election.
Mr Obama raised $750m during his successful presidential election bid in 2008.
"The billion-dollar number is completely untrue," Mr Messina said, adding that the figure has created a problematic perception.
"Too many Obama supporters think we don't need their money or they don't need to give now."
Mr Romney's national finance chairman, Spencer Zwick, made similar remarks.
"Mitt Romney's growing financial support is representative of the growing momentum for our campaign," he said. "In order to defeat President Obama in November, we will need this continued strong showing of support."
Mr Romney is the leading contender to win the Republican nomination, but must first emerge victorious through a season of primary contests.
He is currently battling attacks from his rivals in the next contested state, South Carolina.