Mississippi judge blocks release of 21 pardoned inmates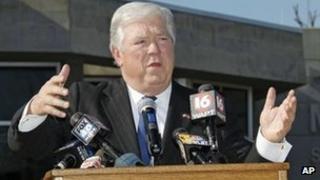 A Mississippi judge has blocked the release of 21 inmates granted reprieves by the outgoing governor, in a move that has sparked outrage in the state.
In his final days in office as Republican Governor, Haley Barbour gave clemency to more than 200 people, including convicted murderers.
But Mississippi's attorney general challenged the pardons, saying they may have violated the state constitution.
Two-term former Gov Barbour says his intentions have been misunderstood.
"The pardons were intended to allow them to find gainful employment or acquire professional licenses as well as hunt and vote,'' said Mr Barbour, who left office on Tuesday, in a statement.
"My decision about clemency was based upon the recommendation of the Parole Board in more than 90% of the cases.''
Mr Barbour said 189 of the inmates who benefited from the clemency had already completed their prison terms.
'Boss Hogg'
But relatives of the criminals' victims have expressed outrage at the releases, with some saying they feared for their own safety.
A judge issued an injunction on Wednesday evening at the request of the state's Democratic Attorney General Jim Hood.
Mr Hood said it appeared that the pardon requests had not been published 30 days in advance, as required.
"It's unfortunate Gov Barbour didn't read the constitution,'' he told the Associated Press news agency.
Mr Hood told CNN that the former governor had "tried to rule the state like Boss Hogg" - a reference to a character in the 1980s TV series The Dukes of Hazzard.
In addition to those convicted of manslaughter and murder, Mr Barbour gave early release to people convicted of drug crimes, drink-driving deaths, burglary and kidnapping.
It emerged on Monday that four convicted murderers who received full pardons last week had worked at the governor's mansion as part of a special privileges programme for well-behaved inmates.
One of those men was convicted of fatally shooting his estranged wife in 1993 as she held her baby, and wounding her male friend.
Mr Barbour, a former chairman of the Republican National Committee, considered running for president last year, until announcing in April he did not have the "fire in the belly".