Amish men plead 'not guilty' to haircutting attacks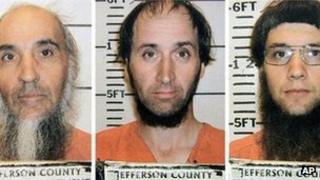 Twelve members of a breakaway Amish group have pleaded not guilty to charges of beard- and haircutting attacks within their community.
They are accused over five incidents in which the beards and hair of Amish men and women were cut, an act particularly offensive in Amish culture.
It is alleged that an internal religious dispute involving a group led by Samuel Mullet motivated the attacks.
Ohio has an Amish population of about 61,000 - second only to Pennsylvania.
Many Amish believe that the Bible instructs women to wear their hair long and for men to stop shaving after marriage.
Within the Amish community, punishments are often decided internally and crimes are rarely reported to the police. Some of the victims of the attacks had refused to press charges.
Of the 10 men and two women charged, seven were arrested in November in the wake of a string of assaults. The other five were arraigned in December.
During Wednesday's hearing, women dressed in traditional Amish clothing and bonnets filled the public gallery of the court in Cleveland Ohio.
'Tragic consequences'
Prosecutors have argued that the charges of conspiracy, assault and evidence tampering amounted to hate crimes prompted by religious differences.
Judge Dan Aaron Polster refused a request from defence lawyers to allow Samuel Mullet Sr, 66, and his son Johnny Mullet, 37, both of Bergholz, Ohio, to be released on bond.
Their lawyer said Samuel Mullet, who appeared in court handcuffed at the wrist and ankles, posed no risk of violence and would not flee.
But in a court filing before the hearing, prosecutors argued that he could not be relied upon to appear in court and that sending policemen to his rural family compound would risk "tragic consequences".
It would not be possible to use an electric tag to monitor his movements since Mr Mullet's residence did not have electricity, they added.
A trial date has been set for 19 March.
Also charged in the case are three more of Mr Mullet's children, Daniel and Lester Mullet and Linda Schrock; his son-in-law Emanuel Schrock; three of his nephews Eli, Lester and Raymond Miller; the spouses of his niece and nephew, Freeman Burkholder and Anna Miller; and a member of Mr Mullet's community in Bergholz, Levi Miller.
In an interview with the Associated Press in October, Samuel Mullet said he had not ordered the beard- and hair-cutting attacks, but that he had not stopped anyone from carrying them out.
He said the aim had been to make other members of the Amish community ashamed of the way they were treating him and his group.