Canada freestyle skier Sarah Burke in coma after crash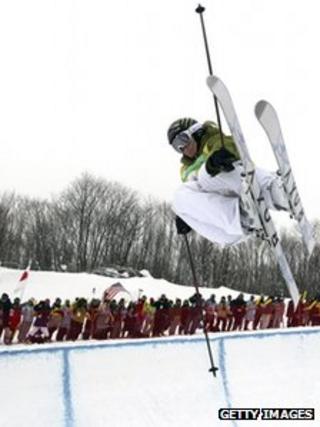 A Canadian freestyle skier bidding for an Olympic gold medal in 2014 is in a coma after a crash in the US.
Sarah Burke, 29, was airlifted to hospital after suffering a serious head injury training at Park City, Utah.
Burke is a four-time Winter X Games champion in skiing the superpipe, a version of a traditional halfpipe with walls over 5m (16ft) high.
She lobbied successfully to have the discipline included in the Olympic Games, to debut in Sochi, Russia.
Ms Burke's husband, Rory Bushfield, put out a message on Twitter looking for someone with a private jet who might help him and family travel quickly from Vancouver to Salt Lake City.
"Sarah is a very, very strong human and she will be fine,'' Mr Bushfield told The Vancouver Sun.
Peter Judge, chief executive of the Canadian Freestyle Ski Association, said it would be several hours before they could get a better idea of how serious her condition is.
"What I've heard, relatively directly, is that she landed a trick down in the bottom end of the pipe, and kind of bounced, from her feet to her head,'' he said, saying that the accident did not seem too dangerous at first.
"We're a bit shell-shocked right now," he told the Toronto Star.
"It's tough to read. The signs are dramatic and catastrophic, but it's hard to gauge how dramatic and catastrophic. The same treatment and symptoms can be on a broad scale."