Canada anti-terror barrier 'foiled by mussels'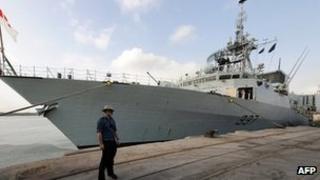 A floating barrier designed to prevent a Canadian harbour from terror attacks has been removed because mussels and kelp weighed it down, it is reported.
The company that installed the 1.6km (1m) fence to protect navy ships in Halifax harbour confirmed it had been dismantled, CBC News said.
A Royal Canadian Navy (RCN) spokesman said the barrier had been removed for scheduled maintenance.
Installed in 2007, the project cost an estimated C$3.5m (£2.2m).
The fence, designed to foil small boats carrying explosives towards the Royal Canadian Navy ships docked in the harbour, was also hurt by tough waves.
"It's definitely a tricky spot," Dennis Smith, chief executive of a US company that installs similar fences, told CBC. "It's just constant 24/7, 365 pounding of the product."
Halifax is the home of the RCN's Atlantic fleet, from where HMCS Charlottetown recently departed for a six-month Nato counter-terrorism mission in the Mediterranean.