Mitt Romney under attack on eve of New Hampshire primary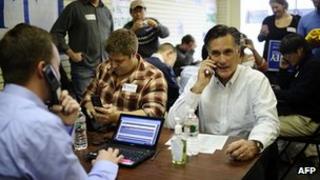 Republican front-runner Mitt Romney has come under attack on the eve of New Hampshire's primary after remarking that he likes to fire people.
He was talking about inefficient health insurers, but rivals used the comment to pillory the tycoon, who built a fortune from corporate restructuring.
Polls on Monday showed Ron Paul and Jon Huntsman vying for second place well behind Mr Romney in New Hampshire.
The eventual nominee will challenge President Barack Obama in November.
Rick Santorum and Newt Gingrich are vying for conservative votes, with one eye on the next race in South Carolina, while Jon Huntsman has staked his entire campaign on New Hampshire's result.
Huntsman pounces
Primaries and caucuses will take place in every US state over the next few months before the prevailing Republican candidate is crowned at the party convention in August.
But Tuesday's vote in New Hampshire, followed by two more this month in South Carolina and Florida could well decisively shape the outcome of the race.
There was a last flurry of campaigning in New Hampshire on Monday, with candidates holding town hall meetings and "meet and greets" in restaurants and coffee shops.
Former Massachusetts Governor Romney's answer to a question from a business group gave plenty of ammunition to rivals.
"I like to be able to fire people who provide services to me," Mr Romney said, answering a question about healthcare insurance.
Former Utah Governor Huntsman was quick to attack.
"Governor Romney enjoys firing people; I enjoy creating jobs," Mr Huntsman said on Monday.
"It may be that he's slightly out of touch with the economic reality playing out in America right now, and that's a dangerous place to be."
Pink slips
With seven campaign stops on his agenda, Mr Huntsman was the busiest of the candidates on the eve-of-primary day.
Texas Governor Rick Perry has begun campaigning in South Carolina ahead of the 21 January primary there.
Mr Romney has faced mounting criticism from rivals over his years at a private equity firm, Bain Capital.
The company carried out corporate restructuring projects under Mr Romney's leadership.
A Reuters news agency report on one of the companies that Bain bought in the 1990s found that it had doubled its purchase price of a steel mill, but ultimately the mill declared bankruptcy and laid off 750 workers.
Rick Perry used the opportunity to attack Mr Romney's remark over the weekend that he knew what it was like to fear getting a "pink slip", or being fired.
"I have no doubt that Mitt Romney was worried about pink slips, whether he was going to have enough of them to hand out," Mr Perry said on Monday.
In an appearance on NBC's Today show, Mr Gingrich said Mr Romney "owes us a report on his stewardship" of Bain Capital.
The former House speaker's remarks came as a pro-Gingrich political action committee - known as a Super PAC - unveiled a short film attacking Mr Romney over his business career.
'Corporate raider'
Focusing on his record at Bain Capital, the video portrays Mr Romney as a greedy "corporate raider" who destroyed the lives of American families.
The pro-Gingrich group, Winning Our Future, is poised to spend $3.4m (£2.2m) on TV advertising in South Carolina after the New Hampshire vote, the New York Times reported on Monday.
While Mr Romney's polling numbers have slipped slightly in New Hampshire, he has attempted to brush off the criticism.
"I thought it was going to come from the president, from the Democrats on the left, but instead, it's coming from Speaker Gingrich and apparently others," he said on Monday.
He remained focused on attacking the Obama administration in his Monday campaign stops.
During one of two televised debates held over the weekend, Mr Gingrich accused Mr Romney of trying to mislead voters by suggesting he was not a career politician, saying that was "pious baloney".