Tucson remembers victims of shooting one year on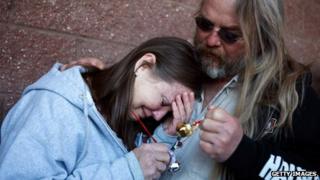 The US city of Tucson, Arizona has been marking one year since a shooting spree that left six people dead.
Bells were rung at 10:11 (17:11 GMT), starting a day of commemorative events.
Congresswoman Gabrielle Giffords was shot through the head in the attack - she is still recovering but made a surprise appearance at a vigil.
Thirteen people were injured in the shootings. Jared Loughner, 23, was arrested at the scene but found mentally unfit to stand trial.
Ms Giffords has spent the past year recovering from her injuries at a specialist hospital in Texas. She is undergoing intensive speech and physical therapy.
On Sunday, she appeared at a candle-lit vigil at the University of Arizona with her husband, astronaut Mark Kelly.
The Democratic congresswoman stepped onstage to cheers from the crowd and led them in the Pledge of Allegiance, the Associated Press news agency reports.
More than 1,000 people had gathered at the University of Arizona for the remembrance.
A staff member said the congresswoman "felt it was important to be in her hometown with her family, staff members and a few close friends".
On Saturday, she also visited the scene of the shooting, a Safeway supermarket in north-west Tucson.
The congresswoman and her husband also hiked on a desert trail to the east of the city which has been named after her aide Gabe Zimmerman, who was killed in the shooting.
Her husband, astronaut Mark Kelly, wrote on Twitter that the couple had visited doctors and nurses at the University of Arizona Medical Center, who treated her in the immediate aftermath of the attack.
"We are so thankful for their care," he wrote.
President Barack Obama telephoned Gabrielle Giffords on Sunday and praised her "courage and determination". He said she was "an inspiration to his family and Americans across the country".
Jared Loughner, the man accused of carrying out the shootings, is being held in a mental health facility while doctors attempt to treat him, in the hope he can stand trial over the attack.
He has pleaded not guilty.