Republican debate: Mitt Romney stays race front-runner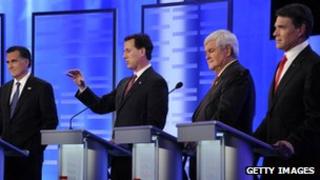 Mitt Romney secured his status as front runner in the Republican presidential race after a high-stakes candidates' debate in the state of New Hampshire.
Observers said the former Massachusetts governor stuck to attacking President Barack Obama, leaving his rivals to squabble among themselves.
Mr Romney narrowly won last week's Iowa caucus, and is ahead in polls for Tuesday's New Hampshire primary.
Six candidates remain in the race for the Republican nomination.
Saturday's debate at Saint Anselm College was the first since Michele Bachmann dropped out of the race following her poor showing in Iowa.
A second debate in less than 12 hours has now started in Concord.
Primaries and caucuses will take place in every US state over the next few months before the eventual Republican candidate is crowned at the party convention in August.
But the votes in New Hampshire, South Carolina and Florida this month which could well shape the race for the nomination.
The winner will challenge Mr Obama in November's election.
'Chicken hawk'
After winning Iowa by eight votes ahead of former Pennsylvania senator Rick Santorum, Mr Romney was expected to be the target of criticism in Saturday night's debate in Manchester, New Hampshire.
His previous role as head of Bain Capital - which bought troubled companies and restructured them - was attacked early on in the debate.
Mr Santorum said: "Being a president is not a CEO. You've got to lead and inspire".
Newt Gingrich, the former speaker of the US House of Representatives who was leading the race only a few months ago but came fourth in Iowa, pointed out that workers had been laid off as a result of Bain Capital's actions.
"I think it's a legitimate part of the debate to say, okay on balance, are people better off by this particular style of investment?"
Mr Romney - who has made much of his business background - defended the company, saying it had created 100,000 jobs on balance and he was "proud" of its success during his period of leadership.
Mr Romney, for his part, largely refrained from making digs at his opponents - though he did refer to Jon Huntsman's period "implementing the policies of this administration" as ambassador to China under Mr Obama.
"The rest of us on this stage were doing our best to get Republicans elected across the country and stop the policies of this president from being put forward," he said.
Mr Romney's three main rivals - Mr Santorum, Mr Gingrich and Texas congressman Ron Paul - spent most of the 90-minute debate attacking each other to secure main challenger status, observers said.
Mr Paul, a libertarian, accused Mr Santorum of being "a big government conservative", referring to criticism that he secured large amounts of taxpayers' money for wasteful projects in Pennsylvania. Mr Santorum said he would not "apologise" for securing Pennsylvania's fair share of government money.
Mr Santorum in turn criticised Mr Paul's non-interventionist policy on foreign affairs. When Mr Paul praised the US Navy for picking up some Iranian fishermen stranded in the Arabian Sea, Mr Santorum retorted: "Well, Ron, if we had your foreign policy, there wouldn't have been a fleet there to pick up the Iranian fishermen".
Mr Paul was also involved in a tense exchange with Mr Gingrich, whom he called a "chicken hawk" for not serving in the military.
"Dr Paul has a long history of saying things that are inaccurate and false," Mr Gingrich retorted. "And I personally resent the kind of comments and aspersions he routinely makes without accurate information and then just slurs people with".