Falluja lawsuit: Blackwater families settle case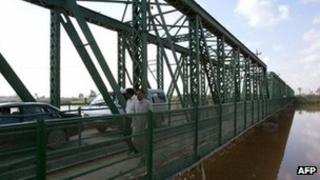 Families of four US men killed in a notorious ambush in Iraq in 2004 have settled a long-running lawsuit with the security firm they worked for.
The four employees of Blackwater, which has since been renamed Academi, were shot, beaten and burned to death in the flash-point city of Falluja.
Two of their bodies were hung from a bridge in an act which shocked America and triggered an assault on the city.
Blackwater was accused of exposing them to high risk without proper protection.
The confidential settlement announced on Friday ended the families' efforts to secure a public investigation into the killings.
The newspaper which first reported the deal, The Virginian-Pilot, said it could have otherwise become "a landmark lawsuit over battlefield accountability, in an era of privatised warfare".
'Just so evil'
Wesley Batalona, Scott Helvenston, Michael Teague and Jerry Zovko had been travelling in two Mitsubishi SUVs, escorting a convoy of lorries to pick up kitchen equipment from a US military base.
The four ex-servicemen were ambushed and shot dead after which their bodies were dragged out by a furious crowd.
Jason Helvenston, brother of Scott Helvenston, said there had been a cover-up.
"The lawsuit coming to an end is no surprise to me whatsoever," he was quoted as saying by the Associated Press news agency.
"It was clear that this was going to be a cover-up from the beginning."
Mr Helvenston, who was not a party to the lawsuit, added: "You just feel the injustice of this long enough, and see that these people are just so evil, all you can do is pray to God that he'll take care of it because that's all you've got left."
Scott Helvenston's former wife, Patricia Irby, said the sum their son and daughter would get had not yet been determined.
"I'm glad it's over," she said. "It's been a hard fight and the lawyers did a phenomenal job."
Academi spokesman John Procter declined to comment, citing terms of the confidential settlement.
The families also dropped a state lawsuit dormant while the federal case was litigated, said Kirk Warner, a lawyer representing the company.