US boxer Floyd Mayweather Jr gets jail term postponed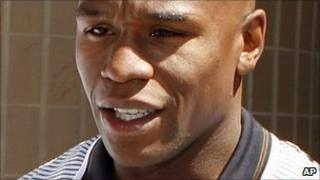 A judge has ruled US boxer Floyd Mayweather Jr will be allowed to postpone his 90-day jail term for domestic abuse.
Mayweather's lawyer said keeping his commitment to fight on 5 May against an as-yet unnamed opponent would provide an economic boost to Las Vegas.
The 34-year-old will now report to jail on 1 June.
He was sentenced after pleading guilty last month to assaulting his ex-girlfriend, Josie Harris, in 2010.
Mayweather also must complete 100 hours of community service and pay a $2,500 fine.
Lisa Luzaich, the prosecutor, protested on Friday that the boxer should have to serve his sentence "just like anyone else".
Justice of the Peace Melissa Saragosa did not agree.
"Mr Mayweather has an obligation to this court," she said, but added: "Given the fact that Mr Mayweather has these obligations, I am going to grant your request."