Dutchman van der Sloot Peru 'may admit Peru murder'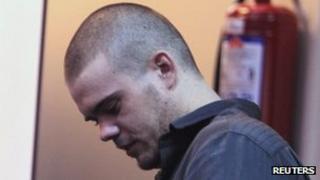 Dutchman Joran van der Sloot has indicated that he may be prepared to plead guilty to murdering a Peruvian woman in Lima in 2010.
He told a Peruvian court that he wanted to give a "sincere confession" but needed more time to think about it.
The trial was postponed until Wednesday.
Mr van der Sloot, 24, was arrested but never charged over the disappearance of US teenager Natalee Holloway in Aruba in 2005.
Peruvian police say Mr van der Sloot has admitted to strangling business student Stephany Flores, 21, in his Lima hotel room.
On the first day of his trial he said he did not accept the aggravated murder charges put forward by prosecutors.
"I want to give a sincere confession but I do not agree with all the aggravating factors the prosecutor is putting on me," he said.
"Can I have more time to think about it?"
Under Peruvian law a guilty plea and "sincere confession" can help secure a reduced sentence.
After the hearing, Mr van der Sloot's lawyer, Jose Luis Jimenez, said his client "accepted the murder" but not aggravating circumstances such as cruelty and robbery.
Mr van der Sloot fled to Chile after Miss Flores' death, but was later arrested and returned to Peru. His 2010 confession came after three days of questioning, police said.
The Dutchman was a suspect after Natalee Holloway's disappearance on the Netherlands Caribbean island of Aruba in 2005.
The case gripped the US media but he was not charged, because of a lack of evidence.
Holloway, 18, was in Aruba on a high school graduation trip when she went missing. Her body has never been found.
Correction: An earlier version of this story said Mr van der Sloot had confessed to the murder of Stephany Flores and entered a plea. This is the case so far, and the story has been changed accordingly.