New Hampshire primary: Boston Globe backs Jon Huntsman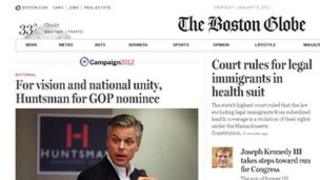 Struggling Republican presidential contender Jon Huntsman has won the backing of a key newspaper just days ahead of the New Hampshire primary.
The Boston Globe, seen as influential across New England, said Mr Huntsman offered "vision and national unity".
The former Utah governor and China ambassador has polled poorly but hopes to make an impact in Tuesday's primary.
Iowa winner Mitt Romney is the clear favourite to win New Hampshire, where he holds a wide lead in opinion polls.
The surprise runner-up in Iowa, Rick Santorum, has hit the campaign trial in the Granite State with his message of fiscal and social conservatism.
He is reported to have raised more than $1m since his Iowa victory, but is also now coming under intense scrutiny both from voters and from the media.
On Thursday Mr Santorum, who opposes abortion rights and gay marriage, was booed after addressing college students during a discussion on gay marriage, which is legal in New Hampshire.
'Race against time'
Endorsing Mr Huntsman, the Boston Globe described both him and Mr Romney - a former governor of Massachusetts, of which Boston is the state capital - as "presidential".
But while the newspaper said Mr Romney proceeds "cautiously" and "strategically", Mr Huntsman is "bold", the Globe said.
"The priorities he would set for the country, from leading the world in renewable energy to retooling education and immigration policies to help American high-tech industries, are far-sighted.
"He has stood up far more forcefully than Romney against those in his party who reject evolution and the science behind global warming."
It is partly that stance on global warming which has contributed to Mr Huntsman's lack of traction with Republican primary voters, many of whom remain sceptics of the science behind theories of man-made climate change.
An infamous tweet posted last summer, in which Mr Huntsman said he supported the findings of climate scientists - and declared "Call me crazy!" - was seen by analysts to have implicitly criticised many of the conservatives he needed to win over to his campaign.
Since entering the presidential race in June 2011 Mr Huntsman has consistently polled in single digits, despite positive media coverage at the start of his bid.
He reoriented his campaign around New Hampshire in the final months of 2011, skipping the Iowa caucuses and spending the final weeks of the pre-primary season touring the towns and cities of New Hampshire seeking votes.
"We got into this race late, but I'm very, very confident that our message combined with our grassroots, on-the-ground effort is going to pay dividends," he said at a campaign stop in the city of Portsmouth on Thursday.
'Conservative alternative'
Elsewhere on Thursday the other contenders for the Republican nomination turned their fire on Mr Romney in an effort to undermine his lead before Tuesday's primary.
"Our mission here is to show that we're the conservative alternative to Mitt Romney," Mr Santorum said, criticising Mr Romney's on health-care and his rivals New Gingrich and Ron Paul for their policy positions.
But Mr Santorum also became embroiled in a niggly debate with college students on the issue of gay marriage, which ended with the candidate being booed as he left the room.
An increase of media coverage of his candidacy saw the New York Times highlight Mr Santorum's business relationships with key interest groups he worked with during his two terms in the US Senate.
Mr Gingrich said Mr Romney would need a majority among voters in New Hampshire to demonstrate his strength.
Ron Paul and Rick Perry were not in New Hampshire, with Mr Paul arriving in the state on Friday and Mr Perry preferring to campaign in South Carolina, where the next primary will take place.