Runaway US girl Jakadrien Turner deported to Colombia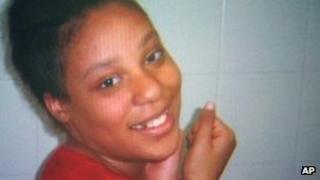 Immigration officials are attempting to unravel the mystery of how a 14-year-old American runaway was deported to Colombia despite having no Colombian ID and speaking no Spanish.
When arrested for theft in 2010, Jakadrien Turner gave Houston police the name of a 21-year-old Colombian.
She maintained this identity through a court case and the deportation process.
Colombian officials say she is now in protective custody but they plan to release her to US officials on Friday.
They had been working to confirm her identity before agreeing to hand her over. On Thursday Bogota said the US embassy had submitted documents to allow for her return.
Ms Turner's grandmother, Lorene Turner, had contacted Dallas police when she found Jakadrien's Facebook page under an assumed name.
The teenager had run away from home in 2010 and was reported missing on 19 November that year. Her information was on record with the National Center for Missing and Exploited Children.
She was arrested by Houston police in April 2011 on the charge that eventually led to her deportation after she claimed she was called Tika Lanay Cortez, the name of a Colombian woman born in 1990.
"They didn't do their work," Lorene Turner told a local TV station. "How do you deport a teenager and send her to Colombia without a passport, without anything?"
'Worst end'
US immigrations officials said they found nothing after her arrest that contradicted her story or assumed name, but were investigating the circumstances which led to the accidental deportation.
A spokesman for the the Immigration and Customs Enforcement (ICE) said the agency "takes these allegations very seriously".
During the deportation process a representative from a Colombian consulate reportedly interviewed her and issued a travel document, the Associated Press reports.
Once she had arrived in Colombia, Ms Turner appears to have spent several months living and working in the capital Bogota.
Johnisa Turner, her mother, said she was devastated when Jakadrian first went missing.
"When your child doesn't come home from school, of course you go to the worst end of the spectrum," she told the Associated Press.
Now that Jakadrien appears to be returning to the US, she said she wanted to put the incident behind her.
"I want her home so we can move from this day forward."