Canada-US border crossed by man using iPad as ID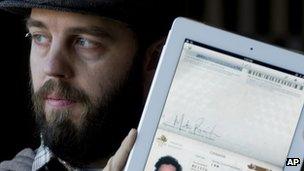 A Canadian man who forgot his passport has said that he managed to cross the border into the US using a copy of the document he had scanned on to his iPad.
Martin Reisch, from Montreal, presented the US border office with his digital device after realising near the border that he did not have his passport.
He said he told the official that he was heading to Vermont to deliver Christmas presents.
But US Customs said he crossed using a driving licence and birth certificate.
"The assertion that a traveller was admitted into the US using solely a scanned image of his passport on an iPad is categorically false," US Customs spokeswoman Jenny Burke said in a statement.
"In this case, the individual had both a driver's licence and birth certificate, which the CBP officer used to determine identity and citizenship in order to admit the traveller into the country."
Mr Reisch, who denies that he was carrying his birth certificate, said he believed the officer had made an exception for him.
"I thought I'd at least give it a try," Mr Reisch said, the Associated Press reported.
"He took the iPad into the little border hut. He was in there a good five, six minutes. It seemed like an eternity. When he came back, he took a good long pause before wishing me a Merry Christmas."
The 33-year-old said he believed that the reasons for his trip, as well as his driver's licence, helped him get across the border to deliver the gifts last week.
Mr Reisch, who successfully managed to re-enter Canada later the same day, has said he will not forget his passport in the future.
However, he hopes one day scanned identification will become the norm.
"I see the future as 100% being able to cross with your identity on a digital device - it's just a matter of time," he said.
Since 2009, Canadians have needed more than a driver's licence as a form of identification for US land border crossings.
Related Internet Links
The BBC is not responsible for the content of external sites.