Los Angeles arson: Police arrest German national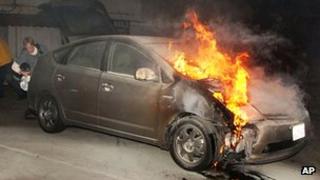 Los Angeles police have arrested a 24-year-old German national over a spate of arson attacks across the city.
They named the man as Harry Burkhart, who although originally from Germany, has lived in LA for some years.
He was arrested after resembling a "person of interest" captured on surveillance video.
More than 50 fires have erupted in LA neighbourhoods since the early hours of Friday. Vehicles parked on streets and in car ports were mainly targeted.
Residents were waking in the early hours to find their cars alight, and the flames threatening their homes and themselves.
The former Hollywood Hills home of Jim Morrison, frontman of The Doors, was among the properties damaged.
One firefighter was treated for injuries over the weekend while on New Year's Eve, another person suffered smoke inhalation.
Dozens of detectives were assigned to the case, while a reward of $60,000 (£38,700) was offered for information leading to a conviction.
Surveillance video
Mr Burkhart was arrested on Sunset Boulevard in the early hours of Monday after a reserve sheriff's deputy spotted the minivan that was being sought in connection with the attacks.
He was booked on suspicion of arson and is being held in an LA county jail, officials said.
"I feel very good that we've got the right guy," Los Angeles Police Chief Charlie Beck was quoted by the LA Times newspaper as saying.
No motive for the fires have been given, but there is speculation of a link to the possible deportation of the suspect's mother.
Mr Beck said the suspect had been recognised on the released surveillance video by federal law enforcement agents "who have been privy to removal hearings" in an immigration court.
The CCTV footage showed a man wearing black clothes at a garage that was the scene of one of the car fires.
Vigilance
Over the New Year holiday weekend, fires erupted during the night in areas including Hollywood, neighbouring West Hollywood and the San Fernando Valley.
The attacks - estimated to have caused at least $3m in damage - left residents on edge.
Actor Dennis Nanney told the LA Times that he had spent much of Sunday night peering out of the window of his apartment on Laurel Canyon Boulevard to check his and his neighbours' carports were safe.
He fell asleep at around 01:00, only to be woken later by his neighbours' screams of "fire". A vehicle in the carport was on fire, although firefighters were able to prevent the flames from spreading.
"It happened right under my nose," said Mr Nanney, upset that his vigilance had not paid off.
Two people were arrested on Friday, but were ruled out as suspects after new fires broke out on Saturday while they were behind bars.
Police Chief Beck said that, although they believe they have the right man and that he acted alone, residents should remain vigilant and report any suspicious activity.