Obama signs Iran sanctions bill into law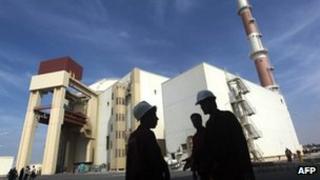 US President Barack Obama has signed into law a major defence bill including tough new sanctions against Iran.
The law cuts off from the US financial system foreign firms that do business with Iran's central bank.
But Mr Obama stressed that he had concerns about parts of the legislation dealing with the handling of foreign terror suspects.
"The fact that I support this bill as a whole does not mean I agree with everything in it," Mr Obama said.
The president signed the law in Hawaii, where he is on holiday. The move comes at a times of heightened tension over the Iranian nuclear programme.
Western powers say Tehran is seeking to acquire a nuclear weapons capability, but Iran insists the programme is purely for energy and medical purposes.
In recent weeks the US has introduced sanctions against Iran's financial sector, although it has stopped short of targeting the central bank outright.
Tussle with Congress
President Obama had been cautious about harsher sanctions, fearing such a move could disrupt oil markets at a time of economic uncertainty, and alienate potential allies.
The bill, which was passed by wide majorities in both houses of Congress, gives the president the power to grant a six-month grace period to give oil markets time to factor them in.
The president's signature comes after months of wrangling between Congress and the White House over trying terror suspects.
President Obama opposed provisions that would have eliminated the authority of the executive to use civilian courts for such cases.
White House officials said he was only signing the measure because Congress made changes that no longer challenged the president's ability to fight terrorism.
"My administration will interpret and implement the provisions described below in a manner that best preserves the flexibility on which our safety depends and upholds the values on which this country was founded," Obama said in the signing statement.
The new law only requires military custody for suspects accused of planning attacks on the US or its coalition partners.
Mr Obama insisted that he would not "authorise the indefinite military detention without trial of American citizens".