Texas airport: explosives found in man's luggage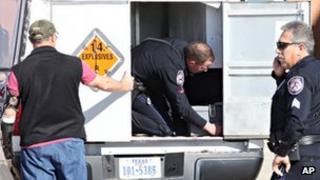 A man has been detained at an airport in the US state of Texas after he tried to carry explosives through security, officials say.
The man was stopped at Midland International Airport when explosives in military wrapping were found in his carry-on baggage as it went through an X-ray machine.
He is being held by the FBI.
The airport terminal was cleared for checks, but normal operations have now resumed, say Midland city officials.
The FBI is conducting an investigation.
A spokesman declined to say whether the man was in military uniform, or what quantity of explosive he was carrying.
The man said that he was active in the military, according to police sources quoted by local newspapers.
He had reportedly been on a family visit to relatives in the Midland area and was returning to a base in North Carolina when he was detained.