Muslims boycott Mayor Bloomberg's interfaith breakfast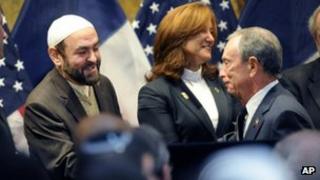 Islamic leaders in New York City have boycotted Mayor Michael Bloomberg's annual interfaith breakfast, in protest at reports of surveillance on Muslims.
They declined their invitations to the annual meeting in a letter outlining their concerns.
The Associated Press news agency first reported in August that the city police department had tried to infiltrate Muslim neighbourhoods and mosques.
Mr Bloomberg has insisted the city's counter-terrorism efforts are legal.
Fourteen Muslim leaders and a number of other community figures - including rabbis, a Roman Catholic nun and Protestant pastors - signed the letter boycotting the Friday breakfast, which is meant to celebrate the city's diversity.
Moles 'played cricket'
Rabbi Michael Weisser, however, said beforehand that he would attend the breakfast after Muslim friends urged him to use the opportunity to raise their concerns with the mayor.
Rabbi Weisser told the Associated Press he had no problem with the police department following leads, but objected to any official targeting of Muslim organisations.
"From a Jewish perspective, it reminded me of things that were going on in the 1930s in Germany," Rabbi Weisser said.
"We don't need that in America. We can't be painting a whole group of people with the same broad brush."
But not all Muslim leaders boycotted the event.
Imam Shamsi Ali, of the Islamic Cultural Center of New York, said: "I think everyone disagrees with the way the NYPD is penetrating the community, but I think generalising everything else as bad is not appropriate."
Mr Bloomberg has previously won praise from the city's Muslim leaders for strongly defending proposals to build an Islamic prayer and cultural centre near the former World Trade Center site.
But reports that the NYPD collected information on people who were neither accused nor suspected of wrongdoing have led to a sense of betrayal among some in the community.
According to AP, undercover officers gathered information through chatting with shop owners and patrons and playing on cricket teams, as part of a surveillance programme designed by a CIA officer.