US TV show All-American Muslim plans to address 9/11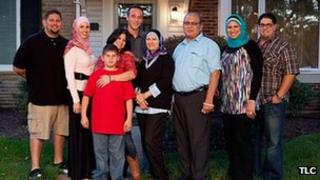 A reality show about American Muslims has said its penultimate episode will address emotional responses to the 10th anniversary of the 9/11 attacks.
The characters, living in Dearborn, Michigan, wanted to tackle the topic, US cable channel TLC said.
The show drew headlines in December when a national home improvement chain withdrew its advertising, on appeals from a conservative Christian group.
The group accused the show of hiding an "Islamic agenda" against US values.
At least one other company, travel website Kayak.com, also pulled its sponsorship from the show.
Defending a community
The reality show All-American Muslim, which airs on the US cable channel TLC on Sunday evenings, features characters living in a suburb of Detroit, which is home to one of the largest Arab-American populations in the country.
Filming for the episode took place during the commemorations marking 10 years since the attacks of 9/11.
"What you'll see in there is a community with a range of emotions that they express over what was probably one of the most pivotal moments in our nation's history," TLC General Manager Amy Winter told the Associated Press news agency.
Deputy Sheriff Mike Jaafar, who was involved with security arrangements for the memorial service at Tiger Stadium, Detroit, became emotional as he remembered the emergency response effort in New York City.
"You think about your guys who work for you, going into a building and not coming home," he said.
Another woman, Suehaila Amen, recalled: "It was the first time I realised that people looked at me as less American.
"As a person who was born and raised in this country, it was very difficult."
Other characters speak of their experiences defending their community over events they had no involvement with.
The series' first season is due to end on 8 January 2012, and the channel has not indicated whether there will be a second season.