Petraeus nearly quit over Afghan drawdown, book claims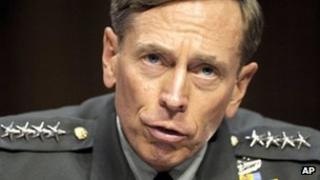 General David Petraeus almost resigned over President Barack Obama's decision to draw down US troops levels in Afghanistan, says a new biography.
But he ultimately decided quitting would be a "selfish, grandstanding move with huge political ramifications".
The book is "part hagiography" of the commander, according to AP news agency, which has seen an advance copy.
The CIA, of which Gen Petraeus is now the director, denied he had considered quitting as Afghan commander.
"Director Petraeus has publicly stated that he never contemplated resignation," CIA spokeswoman Jennifer Youngblood said on Thursday.
'Self-promotion'
Gen Petraeus, then head of Nato forces in Afghanistan, was nominated by Mr Obama in April to direct the intelligence agency.
The president soon afterwards announced that 33,000 US troops would be withdrawn from Afghanistan by September 2012.
The new biography covers Gen Petraeus's 37-year Army career, from his time as a West Point cadet to masterminding the counterinsurgency in Iraq and Afghanistan.
Co-author Paula Broadwell reportedly had extensive access to the four-star general for the book.
"His critics fault him for ambition and self-promotion," she writes, but adds that "his energy, optimism and will to win stand out more for me".
The biography also says that Gen Petraeus felt frustrated at being viewed as an outsider of the current US administration.
The book, All In: The Education of General David Petraeus, is published by Penguin Press next month.
It is not the first hint of tension between Gen Petraeus and the Obama White House.
In American investigative journalist Bob Woodward's latest book, Obama's Wars, Gen Petraeus is described as telling his inner circle that "the administration was [expletive] with the wrong guy".