Republicans attack rival Ron Paul in Iowa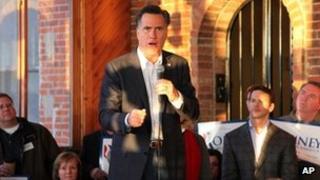 Rising Republican presidential candidate Ron Paul has come under attack from his rivals as campaigning intensifies days before Iowa's caucus.
The Texas congressman was pilloried for his view that the US should not act against Iran's suspected nuclear weapons programme.
A new poll put Mr Paul in the lead in the Hawkeye state among Republicans.
Next week, Iowa holds the first in a series of votes, known as primaries and caucuses, to pick a Republican nominee.
The eventual candidate will be anointed at the party convention next summer before he or she challenges Barack Obama for the White House in November 2012.
'Serial hypocrites'
Former Massachusetts Governor Romney said on Wednesday in Muscatine, Iowa: "One of the people running for president thinks it's okay for Iran to have a nuclear weapon. I don't."
Another White House hopeful, Texas Governor Rick Perry also targeted Mr Paul.
"You don't have to vote for a candidate who will allow Iran to have a nuclear weapon to wipe Israel off the face of the Earth," Mr Perry said. "Because America will be next."
Minnesota Congresswoman Michele Bachmann, campaigning in the town of Creston on Wednesday, joined the onslaught.
"Ron Paul would be a dangerous president," she said. "He would have us ignore all of the warning signs of another brutal dictator who wants to wipe Israel off the face of the Earth. I won't."
But Ms Bachmann's own Iowa campaign suffered a major setback, as its manager Kent Sorenson resigned and endorsed Mr Paul.
"When the Republican establishment is going to be coming after Ron Paul, I thought it is my duty to come to his aid," Mr Sorenson said, quoted by Reuters news agency.
Wednesday's Public Policy Polling survey found Mr Paul leading in Iowa on 24%, ahead of Mr Romney on 20% and former House Speaker Newt Gingrich third on 13%.
But a CNN/Time poll released later on Wednesday found former Pennsylvania Senator Rick Santorum vaulting to third place on 16%, behind Mr Paul (22%) and Mr Romney (25%).
Increasingly under attack, the Paul campaign released a campaign television ad on Wednesday labelling his rivals "serial hypocrites".
In the spot, Mr Paul is described as "principled, incorruptible, guided by faith and principle".
Correspondents say a Ron Paul victory in Iowa would embarrass the Republican Party because many of his views are seen as too libertarian and isolationist.
A succession of candidates has risen to the top of the field since the summer only to fade away in the marathon race for the Republican nomination.
Occupy protests
Mr Gingrich has seen his front-runner ratings on the slide recently after a barrage of negative advertising from Mr Romney's well-funded campaign machine.
The former House Speaker hit back on Tuesday, challenging the former governor of Massachusetts to take him on face-to-face.
Mr Romney, meanwhile, laughed off a jibe he made at the former House Speaker for his failure to qualify for the primary ballot in his home state of Virginia.
He likened his rival to a character in the classic US sitcom I Love Lucy who becomes overwhelmed by a rapid assembly-line of confectionery.
Mr Romney has failed to electrify the conservative base, although he is viewed as the Republican establishment's preferred candidate because a series of polls have suggested he would stand the best chance against Mr Obama.
President Obama's approval ratings have improved slightly, but he remains vulnerable given a slow recovery from the US recession.
On Wednesday, activists from Occupy the Caucus, an off-shoot of Occupy Wall Street, began protesting in Iowa.
Demonstrators from 10 states have promised to interrupt candidates at events and camp out at Iowa campaign offices.
The results from the state's caucus of 3 January are expected to force some candidates to consider whether to continue their campaigns.