Iowa caucus: Republicans zig-zag state in pre-vote push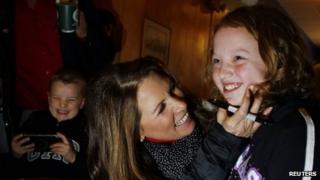 Republican presidential candidates are preparing to make their final pitch to voters with just days left until the first nominating contest in Iowa.
The rivals plan a flurry of television ads, phone calls and bus tours before the state holds its 3 January ballot.
Former House Speaker Newt Gingrich, ex-Massachusetts Governor Mitt Romney and Texas Congressman Ron Paul are seen as the leading contenders there.
But opinion polls suggest many voters remain undecided in the Hawkeye state.
Iowa holds the first in a series of state-by-state, non-binding votes - known as primaries and caucuses - which will help pick the Republican candidate to challenge Barack Obama for the White House in November 2012.
Pearl Harbor analogy
Mr Paul - who has one of most dedicated networks of volunteers in Iowa - is expected to face further questions this week about controversial political newsletters that appeared under his name two decades ago.
Among other things, the writings asserted there was a "federal-homosexual cover-up on Aids", warned of a "coming race war in our big cities", and said the Israeli lobby "plays Congress like a cheap harmonica".
Mr Paul has disavowed the passages as the work of ghost writers.
Mr Gingrich's campaign has been meanwhile accused of disorganisation after it failed to submit the 10,000 signatures needed to qualify for the primary ballot in Virginia - the state where he lives.
The former history lecturer's team has also raised eyebrows after comparing the setback to Pearl Harbor, the Japanese air raid in 1941 that killed 2,400 Americans.
Mr Gingrich is this week expected to sharpen his attacks on Mr Romney, using clips from the former Massachusetts governor's previous campaigns distancing himself from revered Republican President Ronald Reagan.
The former House Speaker, whose opinion-poll lead over Mr Romney has narrowed in recent days, will tout his own economic plan as "Reaganomics 2.0".
Mr Romney, meanwhile, released a new television ad in Iowa on Monday that portrays him as a conservative businessman.
He is planning to deliver a speech on Tuesday evening billed by aides as his final pitch to Iowans, before setting out on a bus tour of the state.
Voter cries
Although his campaign has failed to electrify the conservative base, he is viewed as the Republican establishment's favourite candidate because a series of polls have suggested he would stand the best chance against Mr Obama.
Correspondents say a Ron Paul victory in Iowa would be a major embarrassment to the Republican party as many of his views are seen as too libertarian and isolationist.
Mr Paul would order a $1 trillion (£641bn) spending cut, eliminating a number of government agencies, including the Department of Education. He also proposes returning the dollar to a gold standard and cutting all foreign aid, including to Israel.
At a recent campaign stop in Iowa a breast cancer survivor began crying after he told her insurance companies should not have to cover those who are already sick, Reuters news agency reports.
Also resuming their bus tours this week are Minnesota Congresswoman Michele Bachmann and Texas Governor Rick Perry, onetime frontrunners who have faded in the polls.
Representative Bachmann is seeking to drum home her message that she is the only bona fide conservative in the race, while Governor Perry continues to portray himself as an outsider who can change Washington.
Rick Santorum - whose candidacy has failed to catch fire despite his visit to all 99 of Iowa's counties during the summer - went hunting for pheasants, and votes, in the state on Monday afternoon.
Former Utah Governor Jon Huntsman, who is not competing in Iowa, is keeping his focus on New Hampshire, which comes second on the nominating calendar with a 10 January primary.
Mr Romney holds a wide lead in that state with 39% of the vote, while Mr Gingrich and Mr Paul are tied in second place on 17%, according to a Boston Globe poll released on Sunday.