Texas shooting: Gunman 'dressed as Santa' killed family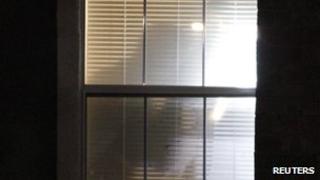 The gunman who shot dead six relatives before killing himself at a family Christmas celebration in Texas was dressed as Santa Claus, police say.
Investigators found four women and three men, aged 15 to 59, dead among unwrapped presents and Christmas decorations in the flat's living room.
Two handguns were also recovered at the scene in the city of Grapevine, near Dallas, on Sunday.
Investigators do not know what prompted the killings.
Grapevine police Lieutenant Todd Dearing told the BBC that the suspected shooter was a 56-year-old man.
He said the gunman's victims were aged 15, 19, 22, 55, 58 and 59.
No-one was found alive at the home.
Grapevine police spokesman Sergeant Robert Eberling said the shooter had been wearing a Santa outfit.
"By all appearances, they're all part of the same family," he told Reuters news agency.
The identities of the dead will be released after post-mortem examinations.
Mayor William Tate said in a statement: "The fact that it happened on Christmas makes it even more tragic."