US teenager Jordan Romero sets seven-peak record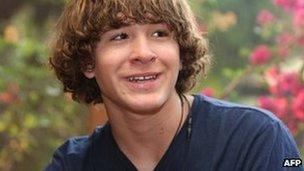 An American teenager has become the youngest person to climb to the summit of the highest mountains on each of the seven continents.
Jordan Romero, 15, reached the 4,897m (16,067ft) summit of Vinson Massif in Antarctica on Saturday, the final peak in a quest he began six years ago.
His team, which includes his father and stepmother, hope to complete their descent to base camp later on Sunday.
Aged 10, Jordan climbed Mt Kilimanjaro in Africa.
At 13, the Californian climbed the world's highest mountain, Mt Everest.
He called his mother, Leigh Ann Drake, on Saturday to confirm he had reached the top of Vinson Massif.
Jordan beat the record previously held by British climber George Atkinson, who completed the ascents at the age of 16 in May.
A post to Jordan's Find Your Everest page said: "It's in the books. The kid and team summit with all fingers and toes. Descent still to come. Then we celebrate."
In an audio message recorded on the summit, Jordan's father Pete said there was a 15-knot (27km/h; 17mph) wind and that the temperature felt like -25F (-32C).
"Legendary day. Team's absolutely strong as it can be," he declared. "The mountain gods let us climb on top of Mt Vinson."
"The team climbed absolutely flawlessly - perfect teamwork."
The other peaks climbed by Jordan are Russia's Mt Elbrus (July 2007), Argentina's Mt Aconcagua (December 2007), Mt McKinley in the US (June 2008) and Indonesia's Carstensz Pyramid (September 2009).
In April 2007, he also climbed Australia's highest mountain, Kosciuszko.
Related Internet Links
The BBC is not responsible for the content of external sites.