Music student reunited with $170,000 rare violin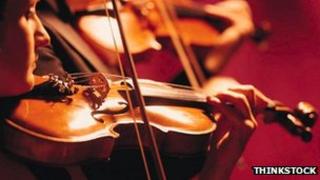 A violin student has heard news that was music to her ears after the discovery of her $170,000 (£108,000) instrument, which she left on a bus in Philadelphia.
Muchen Hsieh said she only later realised she left the 176-year-old violin in an overhead compartment.
The 18-year-old boarded the Megabus coach in Boston with the Naples-made instrument on Tuesday, police said.
The bus company found it in a holding area.
A cultural foundation in her native Taiwan had loaned her the instrument.
"She contacted us about a half hour after she got off, but by then [the bus] had moved on," Megabus US director Bryony Chamberlain told MSNBC.
"We couldn't trace down the luggage immediately. It was found by our cleaners yesterday. I'm very relieved. We're very lucky."
Philadelphia police said earlier they believed someone could have picked up the item without realising its value.
Ms Hsieh had told a local television station: "I'm a violin major, so I really hope that the person that took it can give it back to me so I can continue my studies because right now I can't do anything."