Arlington cemetery: Mistakes may affect 64,000 graves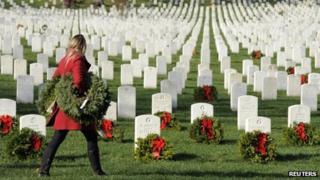 About one in four grave sites at Arlington National Cemetery near Washington may contain discrepancies, a US Army report to Congress has found.
Officials found internal records did not match with 64,230 headstones. There were misspelled names, and incorrect ranks and dates of birth and death.
A review of nearly 260,000 headstones was ordered last year after it emerged graves had been misplaced.
No new evidence of people buried in the wrong plots was found in the report.
But the 150-year-old cemetery's supervisors said their review was not yet complete.
After the scandal broke last year, Arlington's executives were dismissed.
Spouse names
Senator Claire McCaskill, a vocal critic of the former Arlington management, told Associated Press news agency that Thursday's report to Congress was part of "a turnaround story" at the cemetery.
But Senator Mark Warner said the report "raises more questions than it answers", adding that he awaited a more complete review.
The Army compared information on every headstone to internal records.
Many of the 64,000 errors amount to a mistake on the cemetery paperwork, rather than the headstone.
Some of the discrepancies simply reflect procedural differences.
Early last century, names of spouses were often not marked on the headstone but this is now a legal requirement.
Officials cited the example of a Civil War veteran by the name of Christian Keiner, of New York, who died in 1919.
His wife, Caroline Keiner, was also buried in the plot, but her name was not on the headstone. And internal records had misspelled her surname as "Kiner".