Allen Stanford ruled fit for trial over 'Ponzi scheme'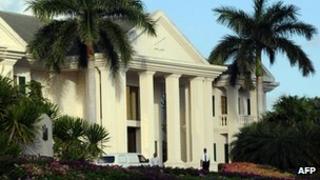 A US federal judge has ruled Texan financier Allen Stanford is mentally fit to stand trial for allegedly operating a $7bn (£4.5bn) Ponzi scheme.
Mr Stanford, 61, is accused of one of the biggest white-collar fraud cases since Bernard Madoff.
The former cricket mogul's lawyers unsuccessfully argued that he suffers from an impaired memory following a prison attack in September 2009.
He has pleaded not guilty to charges of fraud, conspiracy and money laundering.
"I see no brain injury that stands in the way of his standing trial," said Dr Robert Cochrane, a psychological evaluator at the prison.
US District Judge David Hittner agreed after a three-day hearing in Houston, Texas, that Mr Stanford was able to help his lawyers prepare for the trial.
Mr Stanford has spent more than eight months at a North Carolina prison hospital undergoing psychological tests and being weaned off anti-anxiety medication.
Charged by the Securities and Exchange Commission in 2009, Mr Stanford denies running a Ponzi scheme involving the sale of fraudulent certificates of deposit issued by his offshore bank in Antigua.