George Wright extradition bid: US loses Portugal appeal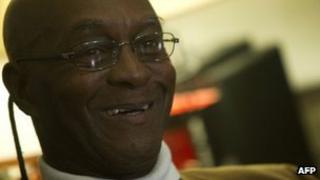 Portugal's Supreme Court has rejected another attempt by the US to extradite fugitive killer and plane hijacker, George Wright.
The US was appealing against an earlier ruling which barred extradition on the grounds that Wright had taken Portuguese citizenship in 1991.
He escaped from prison in 1970. He was captured in September after more than 40 years on the run.
The US want him to be returned to finish serving his sentence for murder.
He took legal action to fight the US extradition order and in November, a Lisbon court denied the request.
Late on Thursday, Wright's lawyer, Manuel Luis Ferreira, said that after a closed hearing, the Supreme Court had notified him that they were rejecting the US appeal.
Mr Ferreira had argued Wright should serve any prison term in Portugal, where he is now a citizen and where his wife and two grown children live.
The US government could now appeal to Portugal's Constitutional Court.
Marriage and citizenship
Wright served seven years at Bayside State Prison in Leesburg, New Jersey, before breaking out with three other inmates.
In 1972, the FBI says he hijacked a US Delta airlines plane to Algeria as part of the militant Black Liberation Army group.
He is said to have disguised himself as a priest and produced a gun from a hollowed-out Bible which he held to a flight attendant's head.
At Miami airport, he and his accomplices secured a $1m ransom before freeing the passenger.
While the other hijackers were later caught, Wright remained at large for more than four decades until the FBI tracked him down in rural Portugal.
He had married a Portuguese woman in 1991, becoming a Portuguese citizen under the name of Jose Luis Jorge dos Santos.
This new identity was given to him by Guinea-Bissau, a former Portuguese colony in West Africa, but was recognised by Portugal when Wright was granted political asylum there in the 1980s.