Bradley Manning defence calls just two witnesses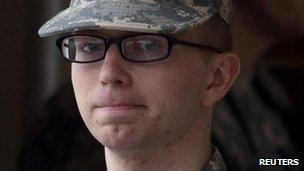 Lawyers for alleged Wikileaks source Bradley Manning have rested their case after calling just two witnesses, on day six of his pre-trial hearing.
The defence called two officers who served with Pte Manning in Iraq, a day after prosecutors wrapped up their case, having brought 21 witnesses.
The hearing at Fort Meade military base in the US state of Maryland adjourned until final arguments on Thursday.
It will determine whether the 24-year-old should face a court martial.
If found guilty, Pte Manning could be sent to prison for life.
The former US Army intelligence analyst was arrested in May last year accused of leaking hundreds of thousands of military and diplomatic cables to the anti-secrecy website WikiLeaks.
On Wednesday, defence lawyers called a sergeant and a captain who served with Pte Manning in Iraq.
Sgt Daniel Padgett testified about a counselling session with the defendant in Iraq, during which he said Pte Manning had become "irate" and turned over a table.
He also contradicted testimony by another witness to the incident who said that Pte Manning had to be restrained after going for an M4 carbine in the room.
"I didn't see him go towards the weapons rack," said Sgt Padgett.
The second defence witness, Capt Barclay Keay, said he felt Pte Manning had "wanted to be a good soldier".
The defence says Pte Manning was a troubled young man with gender identity issues, but his superiors failed to provide counselling, take disciplinary action or revoke his security clearance.
Presiding officer Lt Col Paul Almanza asked Pte Manning if he would like to make a statement.
"No sir, I'm good," the defendant replied.
On Tuesday, the prosecution called Adrian Lamo, a convicted computer hacker who reported Pte Manning to the US authorities.
Mr Lamo said he began having encrypted internet chats in May last year with someone using the screen name "bradass87".
The witness said he later confirmed it was Pte Manning, after receiving a Facebook friend request from him.
In the online chats, Pte Manning talked about supplying classified US material to a "crazy white-haired Aussie", a possible reference to Wikileaks founder Julian Assange.
US Army investigators have testified in recent days that contact information for Mr Assange was found on Pte Manning's computers, along with other incriminating digital footprints.
Following Thursday's closing arguments, the court is expected to take several weeks before recommending whether Pte Manning should face a court martial.
Related Internet Links
The BBC is not responsible for the content of external sites.