Families of Iraqis who worked for US left in danger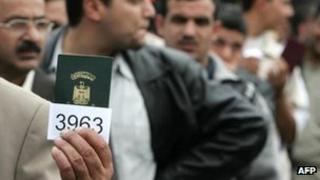 The last American soldiers have left Iraq, and many Iraqis with a connection to them, however distant, remain vulnerable to attack by extremists seeking retribution. Thousands hope to resettle in the US, but new security procedures have delayed admission for all but a fraction, leaving them stuck in dangerous limbo.
"Sometimes when you wait for something, that process will kill you day by day. I'm kept waiting," says Hatem Ahmed, an Iraqi refugee in the US and father of four.
Desperation consumes his voice as he talks about his daughter still in Iraq, waiting to be resettled in the US and reunited with the rest of her family.
"She is part of my body," he says. "She is a part of me and I am unable to live without her."
For security reasons, Mr Ahmed asked to keep his real name hidden. Every day he is gripped with fear his daughter and her family will be killed in retaliation for the work he did for the Americans.
"The situation is going to get worse," he says. "I am 100% sure of it."
Just after the US invasion in 2003, Mr Ahmed left his job as a university professor to work as an interpreter for the US Army. Seven months later, a bomb exploded in front of his house, placed by al-Qaeda, he says. He was severely injured and two of his daughters were killed.
After recovering, he fled with his family to Syria. In 2009, they came to the US.
But his daughter's husband was determined to start a business in the new Iraq, and the couple stayed behind with their three young children.
They quickly came to regret their decision.
In 2010, her husband's car was bombed, in retaliation for Mr Ahmed's work, he says.
Her husband lost his left leg and his right eye. Their entire family now lives in constant fear, facing death threats and abuse.
By February, she and her family had submitted all of their paperwork to apply for resettlement to the US.
In August, their application was placed on hold with no word on when, if ever, it would be approved.
Mr Ahmed's daughter is one of thousands of Iraqis whose request for resettlement in the US has been placed on hold pending security checks.
New security procedures implemented in late 2010 require a background check just before potential refugees depart their home countries.
That is in addition to initial background checks and interviews that have been part of the process for years. And if any of the clearances expire, applicants are required to go through the process again.
Admission of Iraqis to the US fell by half last year, from 18,016 to 9,388, according to US Citizenship and Immigration Services. They are on track to fall even more in 2012.
Lives at risk
More than 25,000 Iraqis await final security clearances, with less than 500 categorised as "travel ready" in October, according to the UN High Commission on Refugees.
Many of the new security checks merely duplicate checks undergone earlier in the process, says Robert Carey, vice-president for resettlement and migration policy at the International Rescue Committee, a nonprofit organisation that works to resettle Iraqi refugees in the US.
"Security is important but we're also talking about lives that are at risk, because people are affiliated or associated with the US or our policies," he says.
"We have an obligation to make sure that those systems are operating in as efficient a way as possible and that these people are protected while the security reviews are taking place."
Though the US government has not confirmed any link, some believe the new security reviews were put in place after the FBI launched an investigation into two Iraqi refugees in Kentucky, who are suspected of aiding al-Qaeda in Iraq.
The two men, Waad Ramadan Alwan and Muhamad Shareef Hammadi, were arrested in May and accused of attempting to send stinger missiles to Iraq for use against American troops.
Agonising wait
US Citizenship and Immigration Services says the agency is committed to resettling vulnerable Iraqi refugees "while maintaining the highest levels of security".
"We continue to refine and improve this process, as we work to identify and develop new opportunities and interagency partnerships with law enforcement and intelligence communities," the agency said in a statement.
Meanwhile, Mr Ahmed's agonising wait for his daughter continues. He has begged Iraqi refugee advocates for help and has even contacted US Army officers he met in Iraq.
"I feel so very much frustrated," he says. "After all that I did, after all the sacrifices that I've made, they should give us special treatment so that I can be reunited with my daughter."