Brandon McInerney gets 21 years for shooting gay pupil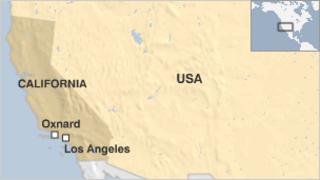 A US teenager has been sentenced to 21 years in jail for gunning down a gay classmate who he believed was flirting with him at school near Los Angeles.
Brandon McInerney pleaded guilty last month to second-degree murder for shooting Larry King, 15.
The defence said unwanted sexual advances by King drove McInerney over the edge; prosecutors said it was a hate crime, but jurors rejected this.
McInerney was 14 at the time of the shooting in February 2008.
The sentence, reached in a plea deal, will begin next month after McInerney becomes an adult.
McInerney's defence lawyer said: "He feels deeply remorseful and stated repeatedly if he could go back and take back what he did he would do it in a heartbeat."
But Greg King, the victim's father, addressed McInerney during the sentencing, saying: "You have left a big hole in my heart where Larry was and it can never be filled."
In September, a mistrial was declared after jurors were unable to reach a unanimous decision on the degree of guilt.