Romney attacks Obama over US troop withdrawal from Iraq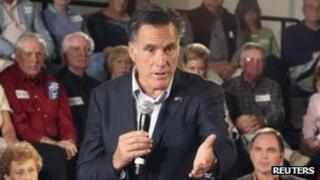 US Republican presidential candidate Mitt Romney has criticised President Barack Obama over the withdrawal of the last US troops from Iraq.
He called the withdrawal "precipitous" and said the president should have left some US forces behind.
Mr Romney has secured the backing of senior Republican Bob Dole, a former senator and presidential candidate.
The nation's first nominating contest for the 2012 presidential election takes place in Iowa on 3 January.
"I think we're going to find that this president, by not putting in place a status-of-forces agreement with the Iraqi leadership, has pulled our troops out in a precipitous way and we should have left 10-, 20-, 30,000 personnel there to help transition to the Iraqis' own military capabilities," Mr Romney said.
He was speaking on Fox News Sunday, his first appearance on a Sunday TV chat show in more than two years.
Mr Romney has been at or near the top of opinion polls in the Republican race to choose a candidate to face Barack Obama in next November's election.
The current favourite is Newt Gingrich, a former House of Representatives Speaker.
'Conservative values'
Mr Dole's backing of Mr Romney's bid is an important boost ahead of the Iowa caucuses.
"I've known Mitt and his family for decades," Mr Dole wrote in an open letter in The Des Moines Register, the main Iowa newspaper.
"His parents instilled in him a strong work ethic, rock-solid conservative values, and a deep sense of service to others," he wrote.
"These traits - which have shone through in both the debates and in my own visits with him - will serve him well in the White House," Mr Dole, a former Kansas senator and 1996 presidential nominee, wrote.
His letter was published a day after the same newspaper endorsed Mr Romney's bid, praising his "sobriety, wisdom and judgment".
On Sunday, the last convoy of US troops to leave Iraq entered neighbouring Kuwait, nearly nine years after the invasion that toppled Saddam Hussein.
President Obama announced in October that all US troops would leave Iraq by the end of 2011, a date previously agreed by former President George W Bush in 2008.
Washington had wanted to keep a small training and counter-terrorism presence in Iraq, but US officials were unable to strike a deal with Baghdad on legal issues including immunity for troops.
Correspondents say there are concerns in Washington that Iraq lacks robust political structures or an ability to defend its borders.
There are also fears that Iraq could be plunged back into sectarian bloodletting, or be unduly influenced by Iran.