New York woman set alight in her lift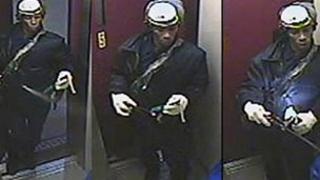 New York police have arrested a man for murder and arson after he allegedly doused a woman with fuel and set her alight in the lift at her flats.
CCTV images captured a man entering the lift, wearing surgical gloves, a protective mask on the top of his head and spraying an accelerant over her.
Police said Jerome Isaac, 47, had surrendered and implicated himself in the attack.
The victim, who later died, was named as Deloris Gillespie, 73, of Brooklyn.
New York Police Department spokesman Paul Browne said Mr Isaac walked into a police station hours after the Saturday afternoon attack, smelling of gasoline, and implicated himself.
He told police Ms Gillespie owed him $2,000 (£1,300) for work he had done for her, Mr Browne said.
After allegedly setting Ms Gillespie on fire, Mr Isaac walked to his own nearby block of flats and started a fire there, Mr Browne said.
Residents of Ms Gillespie's building in Prospect Heights, Brooklyn, told the New York Times they recognised the man in photos of the suspect released by police.
They said he had known Ms Gillespie and sometimes carried shopping bags for her.
Evacuated
Mr Browne said Mr Isaac had been waiting for Ms Gillespie as she arrived by lift on the fifth floor of her apartment block at around 16:00 local time (11:00 GMT).
"It was apparent he knew she was on the elevator," he said.
Video footage showed the man walk into a lift and spray her "sort of methodically" before pulling out a barbecue-style lighter, igniting a rag in a bottle, using the flames to set her alight and then throwing the bottle into the lift, Mr Browne said.
Ms Gillespie was carrying grocery bags at the time, and crouched down at the back of the lift to try to shield herself.
The six-storey building was evacuated and residents kept away for several hours while police investigated, Associated Press news agency said.