Death of Florida A&M's Robert Champion ruled a homicide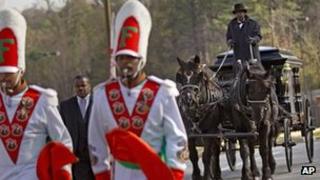 The death of a Florida A&M University marching band drum major has been ruled a homicide by the state medical examiner.
Robert Champion, 26, died after he was severely beaten in a hazing incident.
Internal bleeding sent him into shock and he died within an hour, the report said. Police will now seek to bring charges relating to his death.
Hazing involves subjecting members of a group or fraternity to humiliation or abuse, often as part of an initiation.
Hazing has a long history in Florida A&M's marching band, the Marching 100, and many others around the US.
The Orange County Sheriff's Office has not yet brought any charges in the case.
'Stop the hazing'
But three male band members have been arrested over a separate incident involving the beating of a female member whose leg was broken.
"The Champion family's worst fears were realised tonight when their son Robert's death was ruled a homicide by hazing," the deceased's family said in a statement.
"We now hope that all those responsible for this act will swiftly be brought to justice. Our goal is that no other family will have to live through this pain.
"We don't want to stop the music, we want to stop the hazing."
The family's lawyer, Christopher Chestnut, said: "Justice needs to be swift and immediate."
Champion was found unresponsive in the back of a team bus on 19 November in Orlando, Florida, where the university football team had lost a match to rival Bethune-Cookman.
An unknown caller told emergency services that Champion had been vomiting, and the medical report said he complained of thirst, fatigue and then loss of vision before going into shock.
Shortly before the medical examiner's report was released, Florida Governor Rick Scott called on the historically black university's president, James Ammons, to step down - at least until investigations were complete.
The Marching 100 has performed at Super Bowls, the Grammys and presidential inaugurations.