Baseball's Barry Bonds spared jail for misleading jury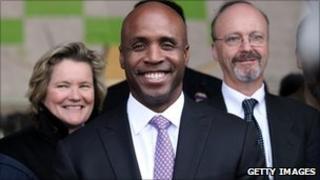 Former US baseball star Barry Bonds has been spared jail after he misled a jury investigating whether he took performance-enhancing drugs.
A federal judge in San Francisco sentenced the 47-year-old to 30 days' house arrest, two years of probation and 250 hours of community service.
The sentence, which includes a $4,000 (£2,580) fine, has been delayed while he appeals against his conviction.
In April, Bonds was convicted of obstructing justice.
Rambling responses
The former San Francisco Giants slugger was the last defendant in a government investigation of a steroids-distribution ring in San Francisco.
He was convicted of giving evasive answers to a grand jury in December 2003.
Bonds gave rambling responses to prosecutors' questions in which he spoke of being "a celebrity child" among other irrelevant statements.
The trial jury failed to reach a verdict on other charges that Bond lied when he denied taking steroids, or that he had received injections from someone other than his doctor.
Prosecutors had wanted a 15-month prison sentence, arguing house arrest was not adequate punishment since Bonds lives in a large estate in Beverly Hills, California. He had sought probation.
He broke Hank Aaron's record for career home runs in 2007, retiring with 762.
Bonds also holds the single-season record for home runs with 73 in 2001.