Bradley Manning: Hero or villain?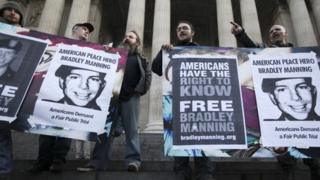 Private Bradley Manning is of course innocent until proven guilty, although his commander-in-chief doesn't seem to have much doubt that he's broken the law.
Pte Manning is the intelligence analyst who US authorities suspect of being behind the hugely embarrassing Wikileaks releases. He was arrested in Iraq last May for illegally downloading material from America's secret internet network.
His appearance in the court room in Fort Meade, Maryland, is under what is known as an article 32 hearing in the military code. It is more than a formality. It will decide whether he will face a court martial and is likely to feature an outline of the arguments on both sides, cross-examination of witnesses and could last up to a week.
If he is found guilty of the charge of supplying information to the enemy he could be executed, although the prosecution have made it clear they will not seek the death penalty. He could however be jailed for life.
This case probably will not be about the facts. It will be about the rights and wrongs of what he did.
Disturbed young man
To some he is a hero, to others a villain.
Many in America will feel, if he is guilty, it is quite clear that he is a traitor who has broken his vows to his country and deserves harsh punishment. Some have even said what he and Wikileaks have done amounts to terrorism.
The defence may choose to paint a picture of a disturbed young man, sensitive and gay adrift in a macho culture. They are likely to bring up allegations that he has been subjected to deliberately punitive detention in a military brig.
There is a suggestion that they will focus on arguing the release of the material didn't do much harm.
But it will be interesting if they put the main point of his many supporters - that what Manning did transcends legal rules and national interests, that information wants to be free, and that truth is more important than government's desire to keep something secret.
Behind this is a specific allegation - that orders to Manning were illegal.
To that end, the defence wants to call US President Barack Obama and Secretary of State Hillary Clinton to the stand.
I doubt we will be seeing them at Fort Meade, but it should make for some interesting exchanges.
I will, I hope, be blogging and tweeting from the courtroom, if allowed.