Attorney General vows to protect voters' civil rights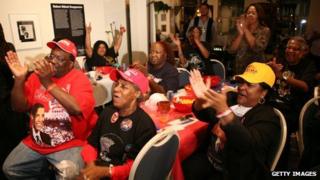 The US attorney general has vowed to enforce civil rights protections for voters in next year's US elections.
Eric Holder's speech in Texas took aim at new voting laws passed in a number of US states that critics say are designed to suppress minority turnout.
Supporters of the Republican-backed measures say they will help combat voter fraud, but they are being scrutinised by the justice department.
Minorities turned out strongly to vote for Barack Obama in 2008.
Under the new rules passed in a number of states, voters are required to show state identification at the polls.
Critics, mostly Democrats, say the poor and elderly may struggle to secure that documentation.
Supporters of the new measures, mainly Republicans, say they will cut down voter fraud.
Speaking on Tuesday night at the Lyndon Baines Johnson Presidential Library in Austin, Mr Holder urged politicians to "resist the temptation to suppress certain votes in the hope of attaining electoral success".
He declared "we need election systems that are free from fraud, discrimination and partisan influence - and that are more, not less, accessible to the citizens of this country".
"Instead, encourage and work with the parties to achieve this success by appealing to more voters."
Mr Holder, the top US law enforcement official, vowed to enforce the Voting Rights Act of 1965, which was passed to protect minority voters.
Under that law, jurisdictions in all, or parts of, 16 mostly southern US states - because of their history of discriminatory electoral practices - must have any voting changes approved by the federal government.
The US Department of Justice is currently reviewing new requirements in Texas and South Carolina requiring voters to produce a photo ID before casting ballots.
Redistricting row
It is also examining voting changes in Florida that eliminate Sunday as an early voting day, which critics say will hamper get-out-the-vote campaigns by African-American churches.
Alabama, Kansas, Mississippi, Rhode Island, Tennessee and Wisconsin have also enacted more stringent voter identification laws this year.
In his speech, Mr Holder criticised, too, a Texas redistricting plan that is now pending before the Supreme Court.
Minority groups have challenged four new congressional seats established in Texas, arguing that they do not reflect growth in the state's Hispanic and black populations.
Mr Holder said: "The most recent census data indicated that Texas has gained more than four million new residents - the vast majority of whom are Hispanic.
"However, this state has proposed adding zero additional seats in which Hispanics would have the electoral opportunity envisioned by the Voting Rights Act."
In September, the Department of Justice's civil rights division asked for details of the racial breakdown and counties of residence of more than 600,000 Texas voters who are currently without state-issued photo ID.
The division also demanded to know how many of those voters have Spanish last names.