US Supreme Court to rule on Arizona's immigration law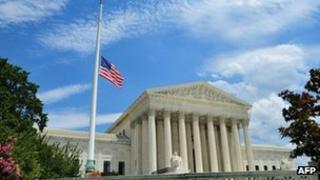 The US Supreme Court has said it will rule on the legality of Arizona's tough immigration law.
It requires police to demand proof of citizenship if they suspect anyone they stop is in the US illegally.
Key parts of the law were suspended last year after a challenge from the White House, which holds immigration to be a federal, not state, issue.
Arizona's legislation led other US states to pass their own measures targeting illegal immigrants.
The White House has also challenged similar laws in the states of Alabama, Utah and South Carolina. Private groups have brought lawsuits against immigration laws in Indiana and Georgia.
'Grappling with costs'
It is the third politically charged case to be taken on by the top court recently with a general election year looming, including President Barack Obama's healthcare reform and a fiercely partisan struggle over redistricting maps in the state of Texas.
The Supreme Court is expected to rule on all three cases in the first half of next year, before the US votes in November 2012.
Justice Elena Kagan has recused herself from the Arizona case, probably because of her work on the issue during her time at the Department of Justice.
Arizona Governor Jan Brewer, a Republican, signed the bill into law in April 2010, but the Obama administration had key parts of the law blocked by the lower courts.
Following Monday's Supreme Court announcement, Gov Brewer said: "This case is not just about Arizona. It's about every state grappling with the costs of illegal immigration."
In April this year, the 9th US Circuit Court of Appeals in San Francisco upheld a federal judge's ruling blocking four provisions of the law:
requiring police to determine the immigration status of anyone they stop or arrest if they suspect that person to be in the US illegally
empowering police to arrest suspected illegal immigrants without warrants
forcing all illegal immigrants to obtain or carry immigration registration papers
making it a state criminal offence for an illegal immigrant to seek work or hold a job
The law is opposed by civil liberties groups who say it is discriminatory, especially against Hispanic people.
But its supporters say the federal government has not done enough to help states curb illegal immigration.
It is estimated that about 12 million illegal immigrants are living in the US.
States on the border with Mexico say the burden of keeping illegal immigrants out of America is affecting them disproportionately.