Former Blackwater firm renamed again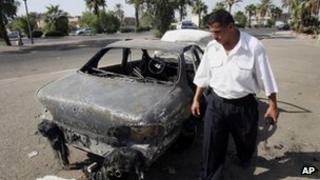 The US security firm at the centre of allegations that its guards killed civilians in Iraq is changing its name once more.
The company, known as Blackwater at the time of the events, became Xe Services in 2009.
Now Xe is to become Academi, named after Plato's institution in ancient Greece.
A US judge threw out charges against five Blackwater guards over the deaths of 17 Iraqis in Baghdad in 2007.
Iraqi authorities claimed that the guards had opened fire on civilians without provocation. The manslaughter charges were dropped because the judge ruled that inadmissible evidence was used.
The activities of foreign security firms in Iraq were curbed after that incident.
The company was bought by an investor group in December 2010 and its founder, Erik Prince, left the business.
In an interview with the Wall Street Journal, the company's president, Ted Wright, said Academi will try to be "boring".
But it does plan to apply for a licence to operate in Iraq again, he added.
"We have had a year of extraordinary changes that have resulted in a new, better company," Mr Wright said in a statement seen by AFP.
"I know that everyone at Academi shares in this commitment to promote the highest standards of ethical conduct, compliance and integrity in all of our activities."