WWII Belgian nurse Augusta Chiwy honoured by US army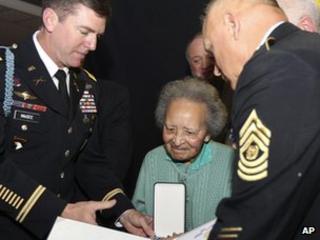 A 93-year-old Belgian Congolese nurse who saved hundreds of wounded American soldiers during WWII has received an award for valour from the US army.
Augusta Chiwy was presented with the award by the US ambassador to Belgium, Howard Gutman.
Mr Gutman said the 67-year delay in presenting the award was because it was thought Ms Chiwy had died in battle.
Ms Chiwy volunteered at an aid station in the besieged town of Bastogne, at the height of the Battle of the Bulge.
At the time there was only one doctor treating wounded and dying American soldiers during a week-long siege of the town in December 1944.
Mr Gutman said Ms Chiwy braved enemy fire to search the battlefields for the wounded.
The Battle of the Bulge was the last major confrontation on the western front between the Allies and the Nazis.
It lasted for six weeks. An estimated 80,000 Americans died or were wounded, and possibly twice as many Germans.