Virginia Tech: Ross Truett Ashley named as gunman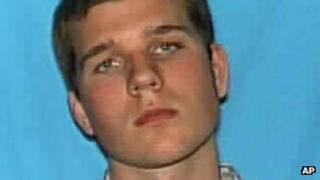 The gunman who shot a Virginia Tech police officer and then turned the gun on himself was a 22-year-old from a nearby university, police say.
Police and Virginia Tech named Deriek Crouse's killer as Ross Truett Ashley, a Radford University student.
Officials said Ashley had stolen a car on Wednesday from a real estate office in Radford, which was found on the Virginia Tech campus after the attack.
Police have managed to piece together his last movements but not his motive.
'No link'
According to police, Ashley, who was enrolled part-time at Radford, entered a real estate office with a handgun and demanded the keys to an employee's vehicle.
The vehicle, a Mercedes SUV, was found the next day on Virginia Tech's campus following the shooting.
Police say Ashley shot Crouse while the officer was sitting in his car at about 12:15 EST (17:15 GMT) on Thursday, before fleeing on foot.
Ashley's body was found in a nearby car park by a police officer. He had suffered a self-inflicted gunshot wound.
Investigators have so far found no link between the gunman and Crouse, a married father of five and 39-year-old army veteran.
Virginia Tech was the site of the deadliest US school shooting in the country's history, in 2007, when a gunman killed 32 people and himself.
'Hearts broken'
About 150 students gathered in a candlelight vigil on Thursday evening at the campus memorial for the shootings of four years ago.
"Our hearts are broken again," the university president, Charles W Steger, said.
An official vigil is planned on Friday night.
Deriek Crouse was one of about 50 officers on the campus force and had served there for four years, joining about six months after the 2007 massacre.
Thirty-two people died in April that year when a 23-year-old South Korean, Seung-Hui Cho, went on a gun rampage before killing himself.
Crouse's death came on the same day Virginia Tech appealed against a $55,000 (£35,200) fine imposed by the government for not reacting quickly enough to the 2007 massacre.